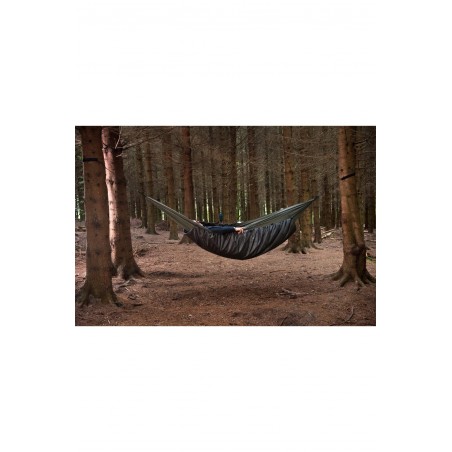  
SNUGPAK Hammock Under Blanket
Layer of warmth for under your hammock
Extend your hammock camping system with the Snugpak Hammock Under Blanket.  Fitting snugly to the outside of your hammock, the Hammock Under Blanket cleverly insulates you from the cold winds, giving you a warm, comfortable night's sleep
Anyone who enjoys sleeping outdoors in hammocks will be familiar with the wind chill that can penetrate from beneath. This is due to the crushing of clothing and sleeping bags against the hammock, which can make for a freezing night! The Snugpak Under Blanket is an innovation. Fitting snugly to the outside of your hammock, it cleverly insulates you from the cold winds, giving you a warm, comfortable and cosy night's sleep.
Due to the versatility of the hammock insulation systems, the wide variety of applications and variations in a camp set up it is difficult to establish an overall comfort temperature for these items. As a general reference, the insulation used is Travelsoft with the similar fill weights to our two season sleeping bags. We would strongly recommend you experiment with your own setup and gradually build up to more extreme temperatures until you are confident of the overall thermal performance.
Hammock not included
Specification
Weight: 1450g / 51oz
Packsize: 23cm x 23cm / 9" x 9"
Product dimensions: 213cm x 147cm / 84" x 58"
Outer Fabric: Micro Diamond 100% polyester
Outer Fabric 2: Paratex antibacterial 100% polyester
Insulation: Travelsoft 100% polyester
Fits most hammocks 
Travelsoft filling has great insulating properties, trapping heat and maximising comfort
Made with Micro Diamond fabric with a Paratex antibacterial treatment
Complete with Compression Stuff Sack