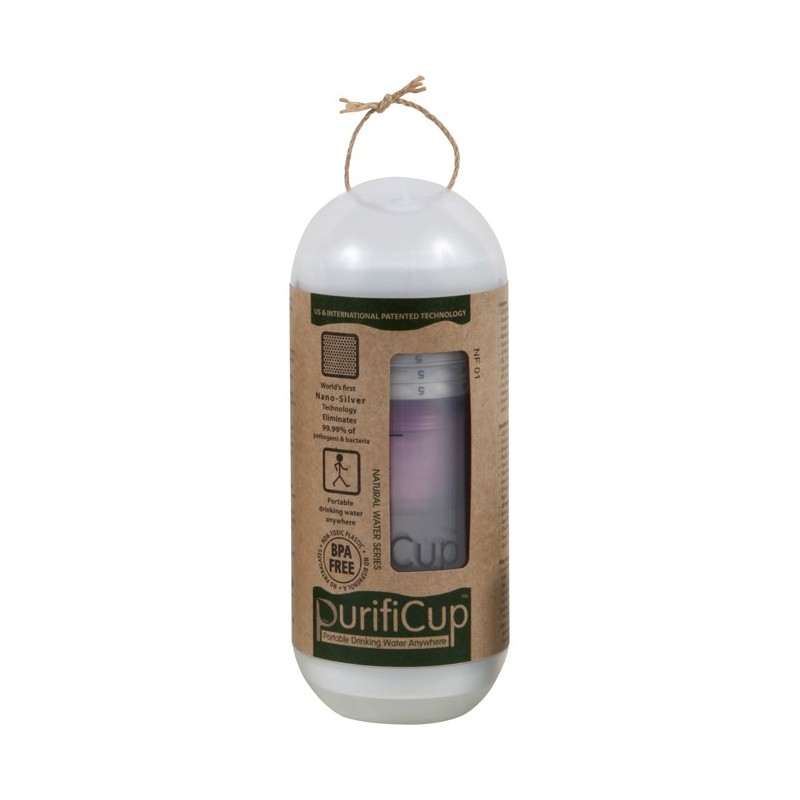  
Purificup Water Purification System
The Purificup Water Purification System is a gravity feed water filter, no need to pump. The Purificup has a 3 stage ion exchange resin, activated carbon & silver membraine filter which removes up to 99.99% of bacteria, parasites & pathogens such as E.coli, giardia & cryptosporidium. The 50 litre filter is replacable & fits on its own 300 ml cup or a Nalgene & other generic bottles
PurifiCup is a portable water filtration system perfect for outdoor enthusiasts and travellers.  Keep one in your emergency preparation kit. With PurifiCup, you can enjoy convenient drinking water on-the-go whether the water source is tap or a stream, river or lake.  PurifiCup's design uses a silver membrane filter to eliminates up to 99.99% of bacteria, parasites, and pathogens such as E.coli, giardia and cryptosporidium.  Utilizing the natural anti-bacterial and anti-fungal properties of silver, bacteria are removed from water as it is filtered through PurifiCup's exclusive silver membrane.  There's no need for boiling water after it is filtered and each filter provides 50 litres of safe drinking water. 
Exclusive 3 Stage Filter Technology
Ion exchange resin: Removes heavy metals (lead, copper, magnesium, cadmium, mercury, etc) and Calcium carbonate.
Activated carbon: Removes chlorine, organic solvent, and pesticides. Organic materials which can give water a bad taste and odour.
Silver membrane:  The membrane eliminates 99.99% of the.  It is located on the inlet and exit of the filter circulation channel, preventing the filter cartridge from contamination. Plus an absolute 1 micron filter for additional layer of protection against bacteria.
Compact and easy to carry
Both a water filter and storage bottle PurifiCup is NSF, WRAS, SGS, and EEC Certified, BPA Free and used only FDA approved filtering and structural materials. It fits easily into your carry-on, back-pack, or handbag and requires no pumps, hoses, batteries or attachments. It can also be attached to filter into a standard water bottle. PurifiCup is also Earth-Friendly and cost-effective.  Enjoy pure, worry -free water anywhere you go with PurifiCup! Our Patented design also allows users to filter directly into Popular Large Sports Bottles such as Nalgene, CamelBAK and most other generic bottles!
Exclusive Silver membrane filter
Silver has been long recognised as an antibacterial & anti-contaminations agents in human history.
Studies show that Silver (Ag +) alone can eliminates more than 600 kinds of bacteria, and serves as an anti-contaminant. Commonly used today in the Medical industry to 'prevent contamination in surgical equipment'. In addition, silver is a nontoxic material. Through the exclusive coating technology in the Silver Membrane of the PurifiCup, the Silver layer is highly active in eliminating bacteria.
Silver membrane also proven as a strong oxidation reagent, which target pathogens such as Escherichia coli (commonly known as "E-Coli), Staphylococcus aureus, Klebsiella pneumoniae and Pseudomonas aeruginosa.
 In controlled experiments, the silver membrane eliminates 99.9% of bacteria in the medium owing to its unique physical property and its interaction with biological systems. By oxidizing the sulphur functional group on the surface protein of common pathogens, the Silver coating destroys the cell wall of common pathogens. Silver has the following advantages. It has powerful purifying capability, it does not induce drug resistance in pathogen, it is not stimulating and does not cause allergy, and it is not sensitive to PH level.
The mechanism of the antibacterial effect of silver is the following; when the positively charged silver particle collides with negatively charged bacterial cell wall, it will instantly adhere to the cell wall and effectively disrupt the growth mechanism, causing bacterial lysis. Furthermore, silver can cause bacterial protein to denature, thus affecting the metabolism of the pathogens. The pathogens are no longer able to respire, multiply and metabolize, and creating a difficult environment for pathogens to survive.
The Purificup Natural Water Purifier is the ideal item to carry with you on trips, where travelling light is key.  No need to carry additional water with you when you know that water sources can be found.  It is also ideal for stays in hotels, where the water may not be drinkable direct from the tap.
*PurifiCup® recommends using only naturally flowing water sources.                                            
*Please use best judgment when choosing sources of water.    

read peoples reviews at http://purificupreviews.blogspot.co.uk/