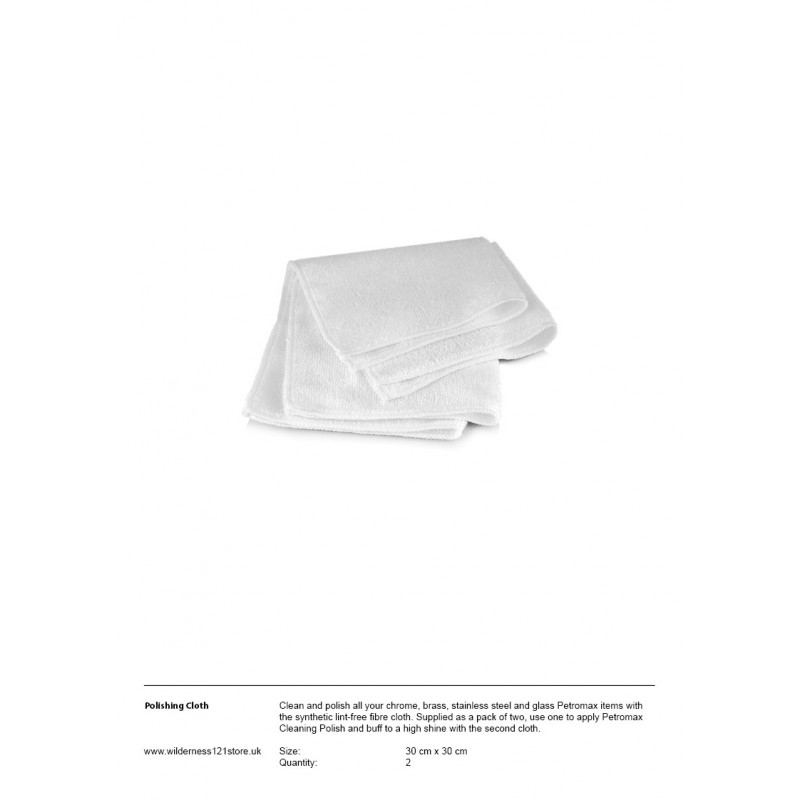  
Petromax Polishing Cloth pol-t
Clean and polish all your chrome, brass, stainless steel and glass Petromax items with the synthetic lint-free fibre cloth.
Supplied as a pack of two, use one to apply Petromax Cleaning Polish and buff to a high shine with the second cloth. 
The Petromax polishing cloth enables you to polish your metal surfaces to a high gloss.
The polishing cloths, made of particularly soft synthetic fibres, are very handy thanks to their dimensions of 30cm x 30cm. Combined with the Petromax Cleaning Polish, the polishing cloth will restore the original splendor of your Petromax lamps or other products.
We recommend using one of the polishing cloth for the basic polishing procedures and the other for the final polishing.
It is fully machine washable at 140°C. 

Technical data
L x W x H (in cm): 30 x 30 x 0,5
L x W x H w/ packaging (in cm): 16 x 15,5 x 2,5
Weight (in g): 60
Weight with packaging (in g): 60

Scope of delivery
2 x Polishing Cloths