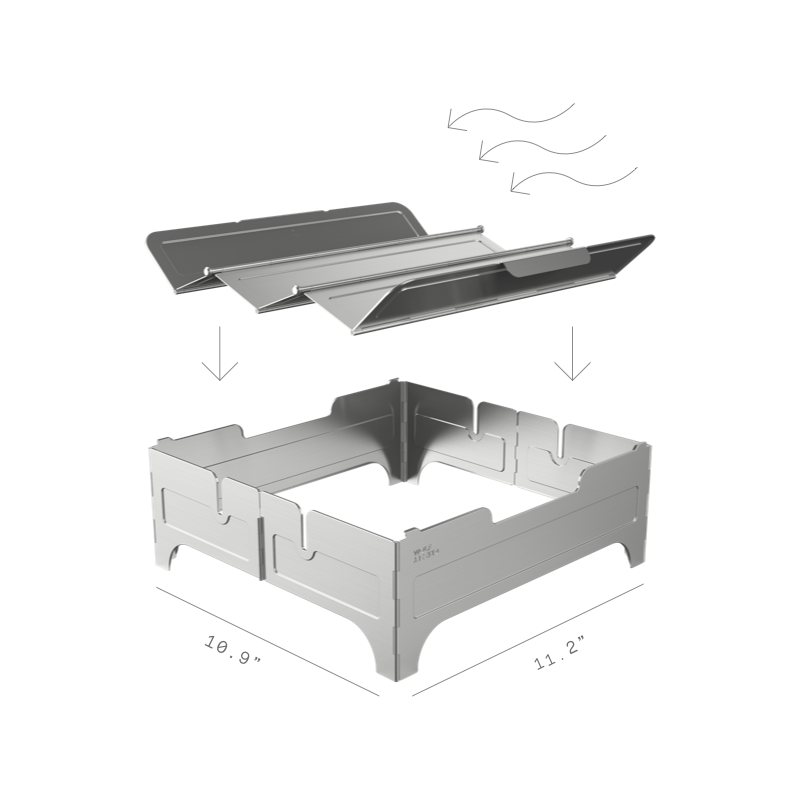  
Wolf & Grizzly Fire Safe Fire Pit
Fire Safe was designed and engineered specifically to maximise efficiencies while minimizing its consumption.

Airflow direction has been engineered to create an efficient and clean burn of charcoal or wood in strong-to-light wind conditions.  Wind shielding provided by the frame ensures you light and keep your fires hassle-free

Its segmented, corrugated design allows you to add charcoal to only the areas that you wish to heat, allowing you to use just enough fuel to cook your meal, rather than wasting monumental amounts of charcoal.  Our insert was designed to require less so you can do more. In fact, Fire Safe requires 26% less fuel per unit of surface area than its closest "competitor".


After use, the tray acts as a scoop for the ashes. We specifically designed this for minimal trace.
Collapsible Packdown. - Our patent-pending hinged collapsible design allows for a large fuel capacity and mighty fire while maintaining a packdown size slimmer than 1" and weighing less than 2.2lbs. This enables you to go on any kind of adventure (big or small) while minimizing the space it takes up in your bag.
Cooking Compatible.  Every design decision we make is deliberate and thoughtful. That's why we ensured Fire Safe could work beautifully with its partner-in-crime, our Grill M1 Edition. Fire Safe's segmented fuel containment and our predetermined Grill M1 heights enables your fuel to be used in a highly efficient way for cooking. Furthermore, it allows for better control of heat zones for different foods.
The Case - Fire Safe is stored in a case that follows the same set of design principles. Made of heavy weight, tough weave, recycled materials (RPET), this case has been consciously and sustainably created. Our case is an ideal and included carrying companion for Fire Safe with features like storage for kindling and modular pockets for your other accessories.
You might also like