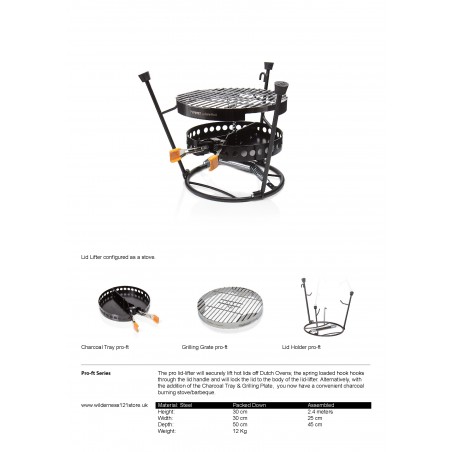  
Pro Hold Dutch Oven Lid Holder Pro – ft
The Petromax Campmaid pro hold Dutch Oven Lid Holder pro - ft
  - Safely Removes Dutch Oven Lid
  - Pot Holder
  - Flip it to use lid as a Skillet
  - Serving Stand 
Removes lid and keeps it off the ground! - away from the dirt and leaves
Use as a serving stand and pot holder!
Flip it over and use the lid as a skillet!
Keeps food warm
Lid lift and removal is easy, safe, and secure
Turn stand upside down to enable cooking on dutch oven lid 
Fits all Dutch oven sizes 8" 10" 12" 14" 16" (FT4.5 and above)
Steel frame construction
Weighs only 3 lbs!
Easily stored inside of a 12" or larger Dutch oven 
Handle is designed not to get hot (when used properly)