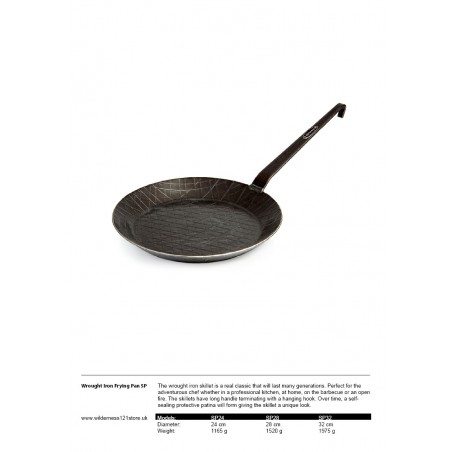  
Petromax Wrought Iron Frying Pan
The wrought iron frying pan or skillet is a real classic that will last many generations. Perfect for the adventurous chef whether in a professional kitchen, at home, on the barbecue or an open fire.
The Petromax skillets have long handle terminating with a hanging hook. Over time, a self-sealing protective patina will form giving the skillet a unique look.
High-quality wrought iron frying pan with excellent heat conductivity for a perfect steak outdoors or at home.
Thanks to Petromax Wrought Iron Pans everyone can have unique and delicious meals on any cooker or stove and even over an open fire! A self-sealing, protective layer forms on the unique surface structure already with the first use. This patina, characteristic of wrought iron pans, further develops with each use and increases the outstanding quality of the sturdy pan. Thus, the long-lasting Petromax pan becomes an indispensable companion in the kitchen. It's now possible to easily roast, fry and braise without the food sticking to the pan. 
The Petromax Pans are available in 3 sizes - 
SP24 24 cm
SP28 28 cm
SP32 32 cm