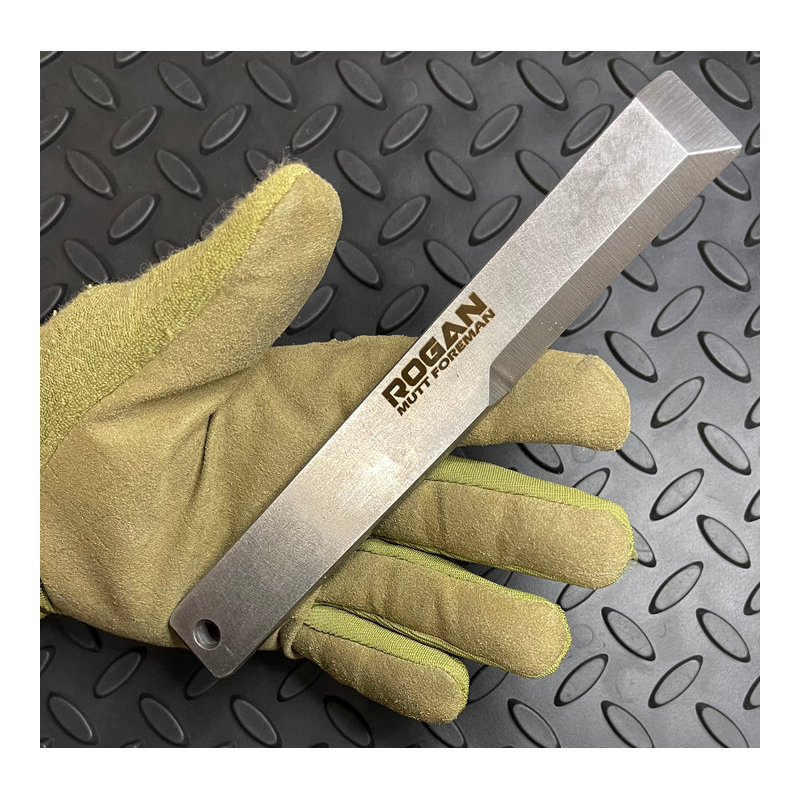  
ROGAN MUTT™️ Foreman Pry Bar EDC Dig Split Pry Hammer
The ROGAN MUTT Foreman is ready to take on anything! ROGAN test their MUTT tools against wood, concrete and even steel

MUTT™️ stands for: Multipurpose. Utility. Trenching. Tool. The MUTT Line is our premium tool line and is capable of some serious work to say the least. Made of 1/4 inch thick high carbon steel.  Check out our the ROGAN YouTube channel: @roganusa if you want to see it in action!
The ROGAN MUTT Foreman is an essential tool for contractors, construction workers, First Responders, Fire Fighters, EOD specialists, Search and Rescue and Military Field Ops. The MUTT Foreman is also the perfect multipurpose tool for the outdoorsman, hiker, camper, metal detectors, preppers and EDC (every day carry). The tool was made for everything you wouldn't want to use your knife for. Save your pocket knife for fine cutting tasks and let the MUTT Foreman handle the rest.
Optional paracord can be wrapped around handle and can easily be replaced. We include directions on how to wrap the handle and also offer a handle wrapping service for an extra fee. 
Please contact us if you have any questions
Made in the USA
1/4in thick, 1in wide and ~7.5in long.
Made of high carbon steel.
Each unit is crafted by hand.
Is NOT knife sharp due to its main purpose of digging and prying.
Sheath sold separately
Tool is molle compatible
Weight 8oz
Measurements are approximate.
Tools are treated with KPL Knife Shield
*Because each unit is handmade and meant for hard use, small blemishes/scratches are normal.
BY PURCHASING THIS PRODUCT YOU AGREE THAT YOU ARE OVER THE AGE OF 18. PRODUCTS ARE NOT TO BE USED IN ANY OTHER MANNER OTHER THAN WHAT THEY HAVE BEEN SPECIFIED FOR. ROGAN WILL NOT BE HELD RESPONSIBLE FOR ANY DAMAGE OR INJURY DUE TO PRODUCT MALFUNCTIONS OR MISUSE. BY PURCHASING YOU HAVE AGREED TO THESE TERMS.