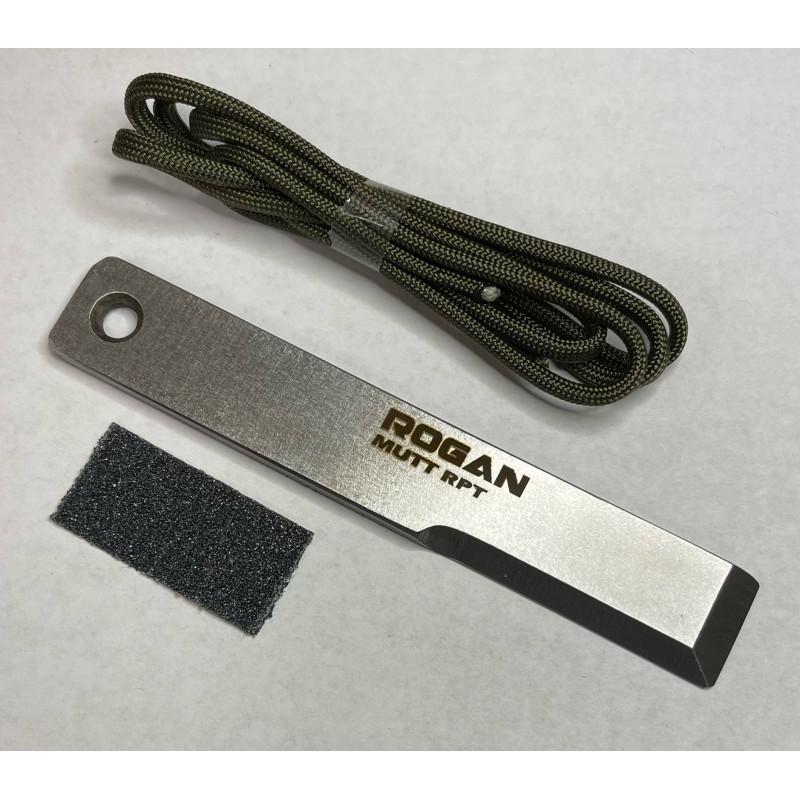  
MUTT™️ RPT (ROGAN Pocket Tool) EDC Pry Bar
The Rogan MUTT RPT (Rogan Pocket Tool) is a rugged, pocket sized pry bar, that's unlike any pocket tool out there.
Small prybars have become a staple for most peoples every day carry setup. Rogan's MUTT™️ RPT has a simple, rugged, straight forward design that's ready for work and not trying to be anything else. Made out of the same high carbon steel as it's bigger brothers, our RPT is the strongest prybar on the market today. 
The MUTT RPT makes a great companion to any folding knife or multi tool, save your knife for cutting fine things and let the RPT handle the rest!
Optional paracord can be wrapped around handle and can easily be replaced. We include directions on how to wrap the handle. Paracord is included.  
Please contact us if you have any questions.
Details
Made in the USA 🇺🇸
5/32in thick, 3/4in wide and ~5in long.
Made of high carbon steel.
Paracord is provided to wrap your own handle.
Grip tape is included. Used to keep the paracord wrap in place.
Each unit is crafted by hand.
Is NOT knife sharp due to its main purpose of digging and prying.
Sheath sold separately
Weight 2.6oz
TSA compliant. The final decision rests with the TSA officer on whether an item is allowed through the checkpoint.
*Because each unit is handmade and meant for hard use, tiny blemishes/scratches are normal.
BY PURCHASING THIS PRODUCT YOU AGREE THAT YOU ARE OVER THE AGE OF 18. PRODUCTS ARE NOT TO BE USED IN ANY OTHER MANNER OTHER THAN WHAT THEY HAVE BEEN SPECIFIED FOR. ROGAN WILL NOT BE HELD RESPONSIBLE FOR ANY DAMAGE OR INJURY DUE TO PRODUCT MALFUNCTIONS OR MISUSE. BY PURCHASING YOU HAVE AGREED TO THESE TERMS.