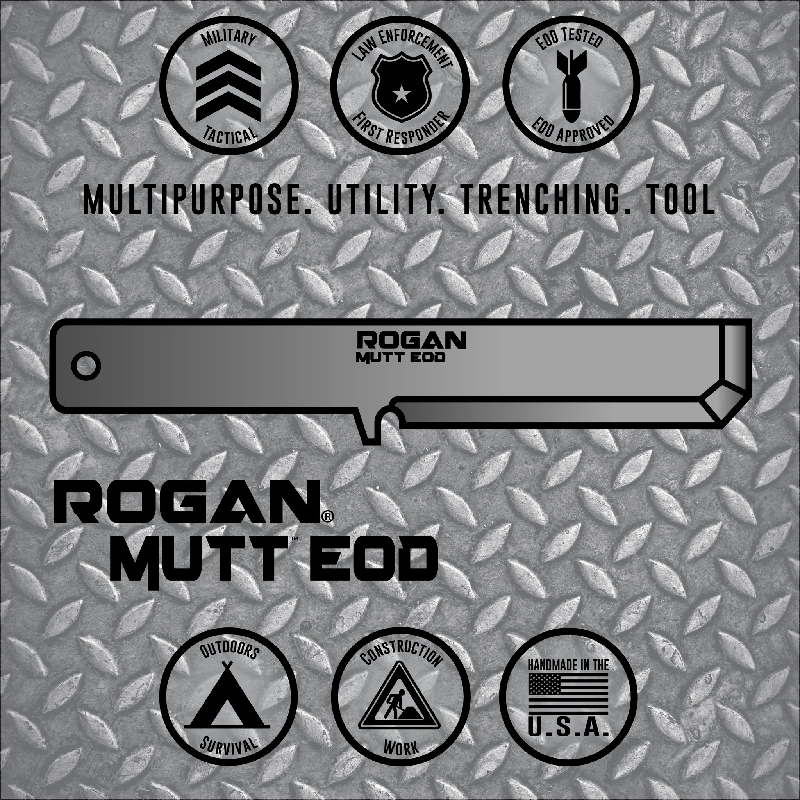  
ROGAN MUTT™️ EOD with Sheath
MUTT™️ stands for: Multipurpose. Utility. Trenching. Tool. The MUTT Line is our premium tool line and is capable of some serious work to say the least. Made of 1/4 inch thick 52100 steel, our MUTT EOD is ready to take on anything! ROGAN their their MUTT tools against wood, concrete and even steel. check out our YouTube channel: @roganusa if you want to see it in action!  This listing contains 4 colours of paracord for the wrap, which will let you pick the one which suits you best - Olive Drab, Black, Coyote and Orange
The MUTT EOD is a beater bar that was specifically designed for EOD techs (Explosive Ordnance Disposal). EOD Technicians have expertise in different types of explosives to ensure the secure disposal of explosive weaponry. Our dedicated MUTT EOD tool has some upgrades that were added after consulting several Marine EOD Techs that provided us with feedback after using our tools on deployment. We thrive on being innovative as well as being receptive to our customers feedback and producing a product to fit their needs. The MUTT EOD is our most innovative, purpose built tool we offer.
 Optional paracord can be wrapped around handle and can easily be replaced. We include directions on how to wrap the handle. Paracord is included.   
  Please contact us if you have any questions. 

100% Handmade in the USA 

🇺🇸

Features our Tri-Grind tip. 

1/4in thick, 1.25in wide and ~9.225in long.

Paracord is provided to wrap your own handle - 4 colour options all in one box. 


Grip tape is included. Used to keep the paracord in place. 

Each unit is crafted by hand. 

Is NOT knife sharp due to its main purpose of digging and prying. 

Comes with friction fit sheath and belt clip.
Weight 11oz
Made of 

52100

 steel
Inch and CM measurements are approximate.
*Because each unit is handmade and meant for hard use, tiny blemishes/scratches are normal. 
BY PURCHASING THIS PRODUCT YOU AGREE THAT YOU ARE OVER THE AGE OF 18. PRODUCTS ARE NOT TO BE USED IN ANY OTHER MANNER OTHER THAN WHAT THEY HAVE BEEN SPECIFIED FOR. ROGAN WILL NOT BE HELD RESPONSIBLE FOR ANY DAMAGE OR INJURY DUE TO PRODUCT MALFUNCTIONS OR MISUSE. BY PURCHASING YOU HAVE AGREED TO THESE TERMS.
 KYDEX SHEATH
Comes with friction fit sheath and clip. Attach the included clip for belt or pocket carry, zip tie it on a roll cage or molle webbing or just throw it in your backpack and not have to worry about it hitting other gear that is in the same compartment. Our sheaths feature eyelets and a slot so any clip on the market can be attached. Our sheaths feature a friction tensioner so the user can set the amount of force needed to deploy the tool. 
Made in USA 

🇺🇸 By: OxCreek Tactical

Slot cut out allows for mounting of any aftermarket clip/mount. 
*Tool is held in with an adjustable friction tensioner so you are able to dial in and set the amount of force needed to deploy the tool. 
 *Please note that repeated use of the kydex sheath will result in scratches on the tool and any laser engravings.