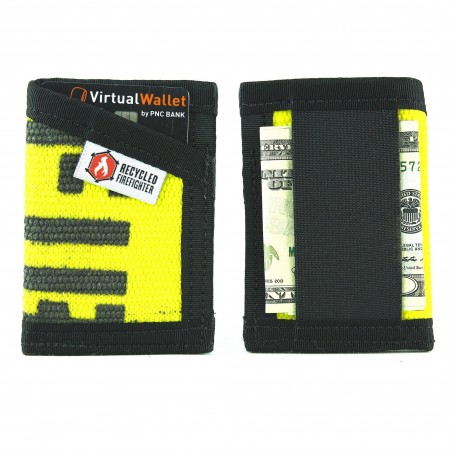  
Recycled Firefighter - The Fire Hose Sergeant | Front Pocket Wallet
The Fire Hose Sergeant  Front Pocket Wallet - Slim, Durable, USA Made Credit Card Wallet That Is Sewn To Last and Super Comfortable as a Front Pocket Wallet. The Sergeant Wallet is designed to be carried comfortably in your front pocket. Made to last a lifetime and sewn with Real Fire Hose, this slim wallet comes with a Valiant Fire Service History. Proudly Made In The U.S.A.
Over the last 3 years this wallet has been my #1 Top Seller. Actually, Recycled Firefighter sell 2 "Sergeant Front Pocket Wallets" for 1 of every other style of wallet. we think this speaks to the uniqueness and quality that this wallet brings to the table.
Most men email me and say "I forget I even have a wallet in my front pocket most of the time", which I love to hear! That's why this wallet only holds up to 8 cards, it really makes you slim down the credit cards you carry. This in turn keeps the unnecessary junk from making your wallet bulky for no reason. 
Made from Real Decommissioned Fire Hose
Sewn with T-90 nylon thread (15 lbs breaking strength)
Edged with 1" Mil-Spec Nylon Binding
Over 4,000 Five Star Reviews 
Slim No Nonsense design
Virtually disappears in your front pocket
Easy access to receipts with the Elastic Band on back
Holds between 4-8 cards, some hose is tighter than others
1.5" Mil-Spec Elastic Money Clip (cash folded into thirds) 
*Due to the repurposed nature of the fire hose your item may appear different than what you see in the product pictures. Not all items have "writing" on them, and these items are limited. The hose color may be slightly lighter or darker and frequently comes with scuffs and markings. Each item is uniquely hand-crafted, and may differ slightly from other products of a similar make.