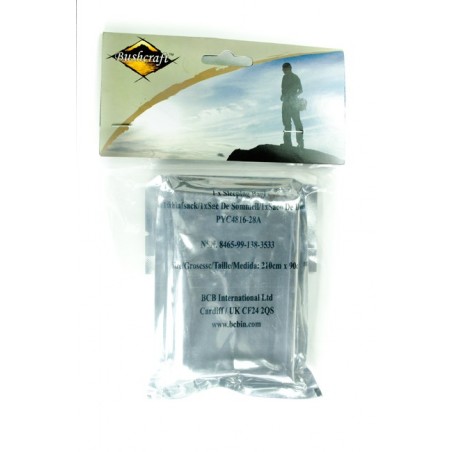  
BCB Emergency Sleeping Bag
BCB Emergancy Sleeping Bag A large light weight clear bag you can climb into to get you out of the elements. BCB Emergancy Sleeping Bag will be hot a sweaty and very uncofirtable but it will keep you alive. 
Emergancy Sleeping Bag
A medium gauge, full size, polythene sleeping bag. Compact and lightweight it is ideal as a shield against the elements or as a waterproof outer layer for a sleeping bag. Vacuum Packed in a tough pouch.  
• 300 gauge (medium) polythene
• Vacuum packed dimensions:10cm x 20cm x 3cm (4"x 8"x 1")
• Weight 144g (5oz) 
NSN: 8465-99-138-3533