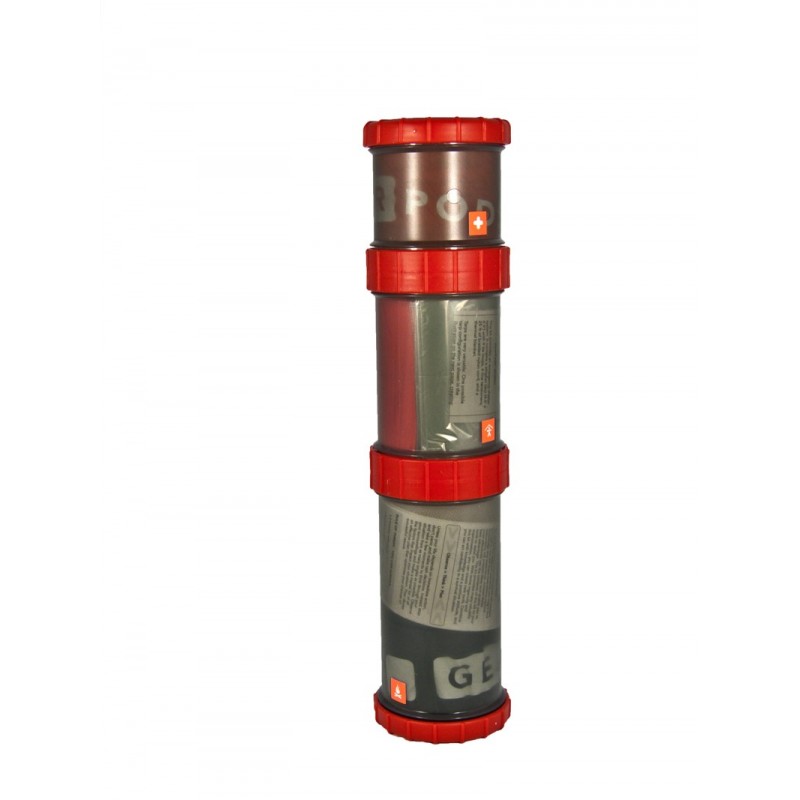  
GearPods Wilderness
The GearPods Wilderness brings together GearPods Survival Pro,GearPods Stove, GearPods Tarp and GearPods First Aid Kit. The GearPods Wilderness helps you confront on-the-trail situations and emergencies with confidence, with high quality survival tools. The GearPods Backcountry is stored in tough waterproof containers that will withstand the riggours of the trail and protect the contents.
The GearPods Wilderness system brings together GearPods Survival Pro, GearPods Shelter, GearPods Stove and a GearPods First Aid Kit.
GearPods Wilderness helps you confront on-the-trail situations and emergencies with confidence, providing all of the convenience and versatility of the survival tools found in the GearPods Survival kit, GearPods Shelter plus the GearPods Stove System (minus the Burner) and a GearPods First Aid Kit.
This self-contained system combines the GearPods CookMug and the emergency-use GearPods® Stove that burns solid fuel tablets. Two fuel tablets are provided. GearPods® Survival Pro is designed to help you with a range of survival activities, including:
•Navigating
•Emergency signaling
•Starting a fire
•Purifying water
•Fishing and snaring
•Repairing clothes and equipment
•Boiling water and cooking
All of the survival tools are stored in two ripstop nylon stuff sacs that packs neatly alongside the GearPods Stove/GearPods CookMug combination in a durable, lightweight and waterproof XL GearPods container that you can easily throw into a backpack or even a jacket pocket.
Imagine the combination of a complete set of survival tools and an integrated cooking system being so easy to carry and pack.
Survival Kit Features:
•GearPods CookMug: Compact 4.0" anodized aluminum cooking mug/pot with snap-in lid
•GearPods Stove: Solid fuel stove with windshield
•Esbit® solid fuel tablets (2)
•Rescue Flash™ signal mirror - 2"x3" signal mirror with retro-reflective targeting, protective film, plastic sleeve and instructions
•Fox40 Micro Safety™ - loud emergency whistle for signaling distress and communicating location
•Spark-Lite™ - dependable, one-handed fire starter
•Tinder-Quik™ (4) - weatherproof waterproof tinder that burns 1-2 minutes
•NATO "Storm" Matches (10) - vacuum sealed, NATO-approved waterproof and windproof matches with striker
•20mm Liquid-filled button compass - simple navigation tool
•Mini-LED flashlight - small keychain-type flashlight with rugged case and battery with 24+ hours of continuous use
•Folding saw - light- to medium- use knife with stainless steel razor blade and rugged handle
•Folding knife - light- to medium-use saw blade constructed of 18TPI steel for cutting wood and metal, and housed in a rugged handle
•Oasis Water Tablets (10) - 1 tablet per 1 litre (33.8 fl oz) of water
•Sterile, self-standing water bag (36 fl oz) - for pre-treatment water capture and storage
•Heavy duty needle - for repairing clothes and gear
•Heavy duty thread (50ft reel, 10 lbs BS) - for repairs and emergency line for fishing
•Safety pins (2) - 2" - for repairs, first aid or even improvised hooks for food procurement
•Wire (8ft) - 0.02" stainless steel wire, non-magnetic - use for repairs and snares
•Braided nylon cord (25ft, 70lbs BS) - many uses including securing gear and building shelters
•Fishing kit - 4 hooks, 2 split-shots and 1 snap swivel
•Duct tape (2"x30" 9mm) - many uses from first aid to repair
•Weatherproof stationery - 2"x3" (4) - keeping logs, leaving messages, drawing maps
•Pencil (with protective cap) - use with weatherproof stationery
•Fresnel Lens (2"x3") - redundant fire starting method
•Waterproof and tearproof instructions - with illustrations (PDF)
•Stuff Sac - with drawcord and fastener (2)
The GearPods First Aid Kit contains a range of equipment to help you deal with injuries on the trail.  Combine the contents with knowledge and training to deal with a range of emergencies.  The GearPods First Aid Kit is contained in a durable, lightweight and waterproof M GearPods container, conntected to the XL of the survival kit. 
First Aid Kit contains:
Gloves - Pair (2)
Rescuscitation face mask (1)
Triangular Bandage (1)
No. 8 Dressing
Non-Adherent Dressing
Sterile Gauze
Cleansing Wipes (1)
Assorted Waterproof Plasters (10)
Zinc Oxide Tape (1)
Safety Pins (5)
Small Tweezers (1)
GearPods Shelter includes:
GearPods Adventure Tarp
Thermal Blanket
Nylon cord
Guy Tensioners
Available in the full range of GearPods colours - Red. Black, Orange, Yellow, Blue, Olive Drab and Coyotee Tan
Free Shipping on this item.
NB. This product is the UK/EU model.
Please note - the reduced price is in place as some of the first aid kit items within this product are now out of date - so you can use the savings to top up with your own items