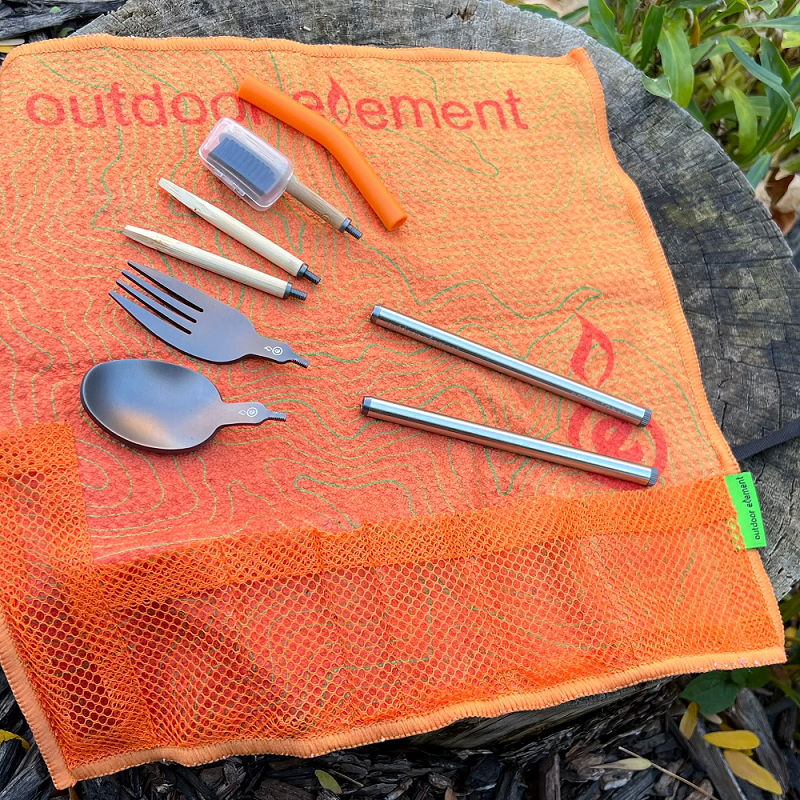  
Omni-Tensil by Outdoor Element - Camp Cutlery Set
Never need a single-use plastic utensil again.
The Outdoor Element Omni-tensil is the easy-to-carry, lightweight, all-in-one utensil roll pouch. Pack Omni-tensil on a hike or camping trip, carry one in the car, and store one at the office.
Omni-tensil includes interchangeable utensil heads for a fork, spoon, chopsticks, and toothbrush that connect into threaded stainless steel tube handles. The tube handles also become mini-bellows when joined together using the included silicone sleeve. The durable & quick-dry roll pouch is made from recycled plastics and doubles as a washcloth.
The spoon and fork are made of hard anodized 7075-T6 aluminum. This grade of aluminum is stiffer and lighter than titanium.
The toothbrush and chopsticks are made of bamboo. Thoroughly wash/rinse each utensil prior to use.
Use the silicone elbow to form a small fire bellows by attaching the tubes together. (Who likes smoke in their face when you're trying to get a campfire started?)
The microfiber roll towel is made from recycled plastics, woven with a waffle textured design so that it can also function as a washcloth, yet still be nice and soft. The fabric dries quickly and is easy to hang on a branch or use a carabiner through the buttonhole to attach to a pack or line.
Omni-tensil weighs about 3.5 ounces.
In application, the utensil set can be customized per your adventure needs. For example, you can pack just the spoon and toothbrush for quick trips. This would bring the weight down to about 1.7 ounces.
Omni-tensil is more than a fork in your face. It is adaptable to meet your needs. It's a lightweight, simple, and effective solution for outdoor utensil needs. …plus, we printed a fabulous dad joke on the towel. So, it's 100% worth it.