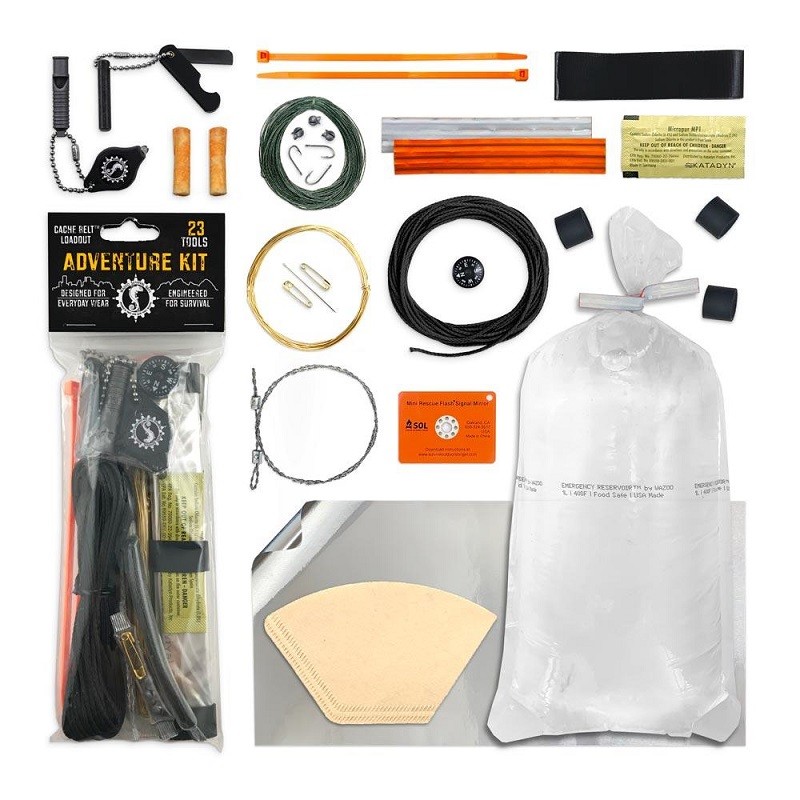  
Wazoo Adventure Kit
23 TOOL SURVIVAL KIT
The Wazoo Survival Gear Adventure Kit is custom-designed 23 tool survival kit, that fits in the Cache Belt™ and Cache Cap™. Most components in this kit are custom-made and cannot be found anywhere else. Every component was chosen to contain the highest quality parts while maintaining packability. The Adventure Kit is meant to be the ultimate compact survival kit maximizing function, form, and space.
The Adventure Kit is an insanely versatile multi-use tool kit, comprised of 23 components honed to maximize your capabilities, without cramping your style. Carry it, use it, and refill it. The Adventure Kit is designed to be your go-to set of compact tools for everyday emergencies. Whether you need a piece of duct tape to patch a tent or a means to purify water in a pinch, carry this compact survival kit when hiking, camping, hunting, and more.
 

The individual Adventure Kit components are designed to be stashed inside the 
Cache Belt
 and 
Cache Cap
but their compact size makes them perfect emergency tools for packs, pouches, and pockets too.