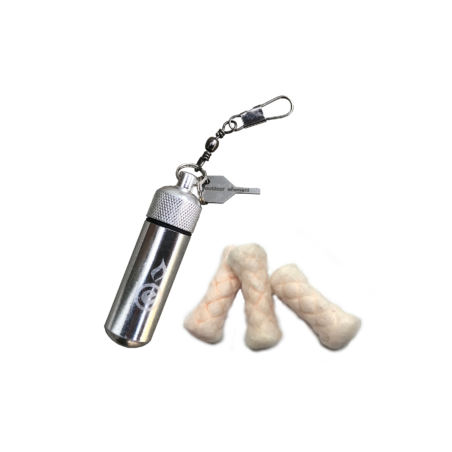  
Packrat Accessory Kit for Firebiner
Add to your peace of mind when in the outdoors by carrying the Outdoor Element Packrat Accessory Kit with you. Clip the vial on your Firebiner, store a TinderQuik and an extra ferro rod or two and you are set.
Kit includes:
 Watertight aluminum silver vial to keep your fire-starter dry and/or contained. For use with wet or dry fire-starter.
Screwdriver tool to adjust the tension on the Firebiner ferro rod or to replace the rod.
Screwdriver tool also doubles as a convenient Reflector.
3 TinderQuiks that are made in the USA – excellent tinder that light up easily and burn long.
Barrel swivel clip and split ring to keep everything together and attached to your Firebiner.
For something similar but slightly different, check out the Wombat Whistle/Vial Accessory Kit as well.