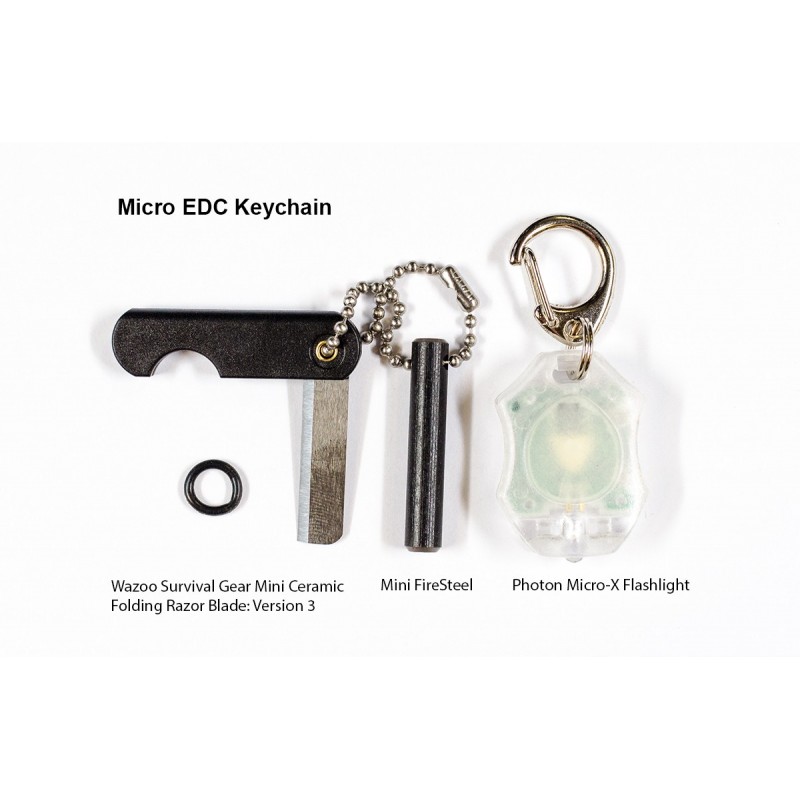  
Micro EDC Keychain
Put together by Go Prepared Survival, this ultra-light EDC kit includes high quality and tested gear for your keyring or pack. You will be able to cut, make fire and find your way in the dark.
Wazoo Survivial Gear Mini Ceramic Folding Razor Blade. Version 3 - Assembled in USA
Mini FireSteel
Photon Micro-X Flashlight - USA
The knife is made from ceramic, brass, and plastic with a stainless steel keychain and a EPDM O-Ring so it is 100% corrosion free for use in any environment. While it can obviously serve as a great edition to an EDC keychain, because of it's small size, it can also be stashed in just about any little clothing crevice; hat, money belt, or even boots.
CUTTING: Remove the securing O-Ringbny sliding up towards the keychain, unfold the blade to cut through cardboard, leather, fabric, cord, or meat. The long slender blade gives a great usable length for precision slicing and will hold an edge better than steel (assuming you don't abuse it).
SCRAPER: This product was designed so that when folded closed the exposed pinch-point becomes the ultimate firesteel scraper. We pioneered the use of ceramic in this type of application and you'll never find a better material for the job. This makes the perfect replacement for any standard issue firesteel scraper. It shaves magnesium like a dream and rains down fiery terror onto your tinder bundle.
SIZE: Micro Survival Item! This is the smallest EDC folding blade money can buy, but slow down there Paul Bunyan! it's not meant for splitting wood, but it'll get the majority of tasks done, and done well. It packs a huge punch for a tiny accessory.
Version 3: This is the 3rd iteration of small ceramic folders. This new version was taken through an sintering process that turns the blade black (Perfect for all you blacktical ninjas!) and hardens the ceramic even more. The blade thickness has been increased. This has resulted in a stronger blade that cuts better and throws even more hunkier sparks with its spine. Translation: Stronger, cutty-er, blacky-er, cooler.
Closed Length: 1.7 inches

Blade Length: 1.1 inches

Open Overall Length: 2.8 inches

Weight: 0.1 ounce

Blade Material: Nonmagnetic Extremely Hard Zirconia Ceramic 

Edge: Chisel Grind

Brass Eyelet

EPDM O-Ring for secure closure (Made in the USA)

#3 Stainless Steel Ball Chain (Made in the USA)
Photon Micro-X Flashlight
Full range brightness

Five safety modes (SOS, Morse code and 3 strobe speeds)

Glow-in-the-dark seal 

Replaceable Energizer Lithium battery 

24k gold contacts

IPX-4 Splash Proof (If water gets inside it, just open the case, dry it out and it's ready for use) 

Made in the USA

Lifetime manufactures warranty
Please note - this product has been produced with minimal packaging and is supplied in a nylon ziplock bag only.