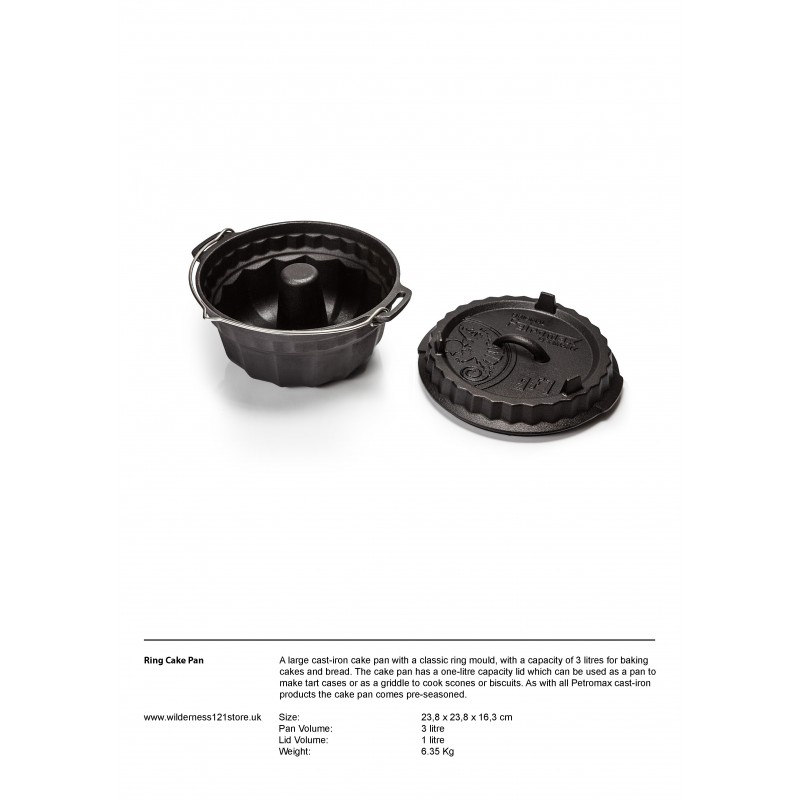  
Ring Cake Pan gf1
The Petromax cast iron ring cake pan, gf1, is perfect to bake your favourite cakes over the open fire and at home.
With the cast-iron Petromax Ring Cake Pan, you can bake moist cakes, delicious casseroles or bread in the classic ring mould. The multifunctional lid not only offers high temperature for cakes in the outdoor kitchen, but also functions as a tart case mould when upturned. This innovative Petromax cast-iron product with its timeless design is indispensable in your kitchen.
For Petromax, cast iron stands for quality
Thanks to the outstanding qualities of cast iron and the special structure of the surface, warmth is efficiently stored and transferred to the food. The pre-seasoned surface means that the sturdy ring cake pan is ready for use immediately.
It can be heated over campfire, with charcoal and briquettes or in your oven at home. You can easily hang it over a fire using the practical notched handle made of stainless steel, or utilise the raised edge of the lid to place embers or charcoal safely on the ring cake pan - heating it evenly from all sides.
Multifunctional and practical
Whether it is your favourite cake or fresh bread, you will bake them successfully with the cast-iron Petromax Ring Cake Pan. You can easily remove the lid with feet with the Petromax Lid Lifter. Besides, the upturned cast-iron lid is suitable making tasty tarts and quiches, and it can also serve as a practical skillet for the outdoor kitchen. After use, the pan is very easy to clean. We recommend that you use the Petromax Care Conditioner for Cast and Wrought Iron for taking care of the pan.


Technical data
Material: cast iron
Pan capacity: 3 litre(s)
Lid capacity: 1 litre(s)
L x W x H (in cm): 23,8 x 23,8 x 16,3
L x W x H w/ packaging (in cm): 25,5 x 25,5 x 17,8
Weight (in g): 6350
Weight with packaging (in g): 6850

Scope of delivery
1 x
1 x Instructions Manual (German/English/French)