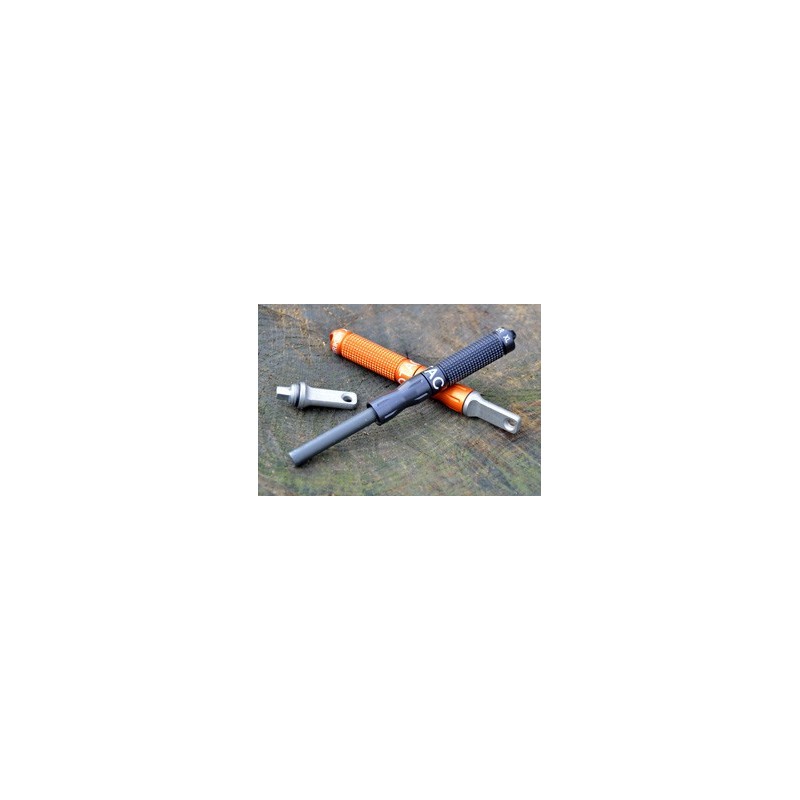  
EXOTAC nanoSTRIKER XL Firesteel
The nanoSTRIKER XL fire steel from Exotac has a Ferrocerium rod that is encapsulated in the handle of the fire steel making the nanoSTRIKER XL completely waterproof. For this reason this fire starter is the perfect EDC for anyone working or playing outdoors, where you need to light fires, stoves or lanterns.  Also available in Copper and Titanium
The nanoSTRIKER XL from EXOTAC is a collapsible ferrocerium fire starter, encased in a sealed, waterproof case.  The nanoSTRIKER XL is sealed with o-rings to keep moisture out, which can degrade firesteels.
Still small enough to keep on your Land Rover keyring - big enough to do the most demanding jobs.  No reason not to add this to your keyring, survival necklace or to your pack.  We feel that the nanoSTRIKER XL is a superb progression of the original nanoSTRIKER - it has been designed and engineered and is supplied by people who are proud of their products.
Available in GunMetal, Olive Drab, Orange and Black - with special editions in Copper and Titanium.
The nanoSTRIKER Features:
Patent Pending Collapsible self-contained fire starter
Ferrocerium rod works when wet 
Lightweight 6061 aircraft aluminum body
Stainless steel 440C striker hardened to >50HRC
Burns at nearly 3000 degrees C
Replaceable 1/4" ferrocerrium & magnesium rod
Ultra sharp tungsten carbide striking tool
More than 3000 fire starting strikes per rod.
Included in the nanoSTRIKER box: 
Split ring for keyring carry
nanoSTRIKER XLtm with ferrocerium rod 
Extra set of o-rings 
Instruction Manual