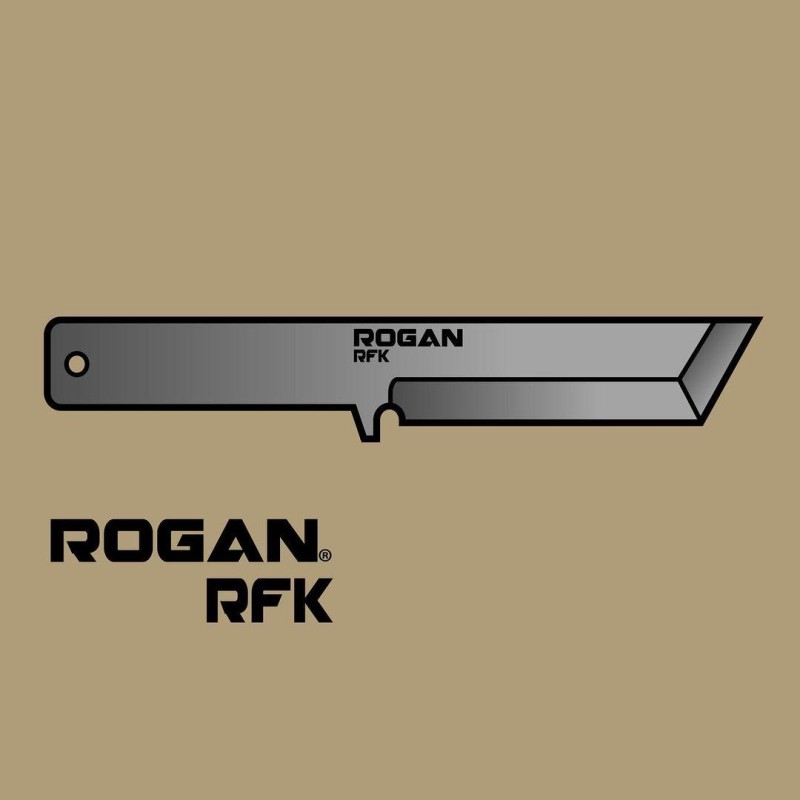  
ROGAN RFK
Our customers asked us to manufacture a SERE/egress/combat knife that lived up to our name. We proudly introduce the ROGAN Field Knife or RFK for short. The RFK uses a modified version of our MUTT™️ EOD model. With different bevels, a utility sharp edge and American tanto tip, our RFK is sure to impress those in need of a hard-use and durable knife. The RFK is best suited for survival, egress and rescue duties. Made of 1/4 inch thick 80CRV2, our RFK is extremely robust and ready for your next adventure.
The RFK is a robust fixed blade built for general outdoor tasks. To serve its duty in the field – whether it's camping, backpacking, egress, deployment, bushcraft or general survival- our RFK is a reliable, all-purpose tool. 
  Please contact us if you have any questions. 
100% Handmade in the USA 

🇺🇸

Features a chisel grind bevel. 

1/4in thick, 1.25in wide and ~9.225in long.

Available in different color handle wraps.

Each unit is crafted by hand. 

 

Contact us if you need a left handed version.

Comes with friction fit sheath, belt clip and zip ties for attaching to molle webbing.  

Weight 11oz

Made of 1/4 in thick 80CVR2 steel

Due to its fine, knife sharp edge, this knife is NOT made for chiseling concrete or steel. 

RFK has a "utility" edge that is better suited for hard use tasks rather then shaving. 
*Because each unit is handmade and meant for hard use, tiny blemishes/scratches are normal. 
BY PURCHASING THIS PRODUCT YOU AGREE THAT YOU ARE OVER THE AGE OF 18. PRODUCTS ARE NOT TO BE USED IN ANY OTHER MANNER OTHER THAN WHAT THEY HAVE BEEN SPECIFIED FOR. ROGAN WILL NOT BE HELD RESPONSIBLE FOR ANY DAMAGE OR INJURY DUE TO PRODUCT MALFUNCTIONS OR MISUSE. BY PURCHASING YOU HAVE AGREED TO THESE TERMS.
PLEASE BE AWARE OF KNIFE LAWS IN YOUR AREA. ROGAN IS NOT RESPONSIBLE FOR CONFISCATION OR LEGAL ACTION TAKE  AGAINST YOU FOR NOT FOLLOWING KNIFE LAWS IN YOUR AREA.