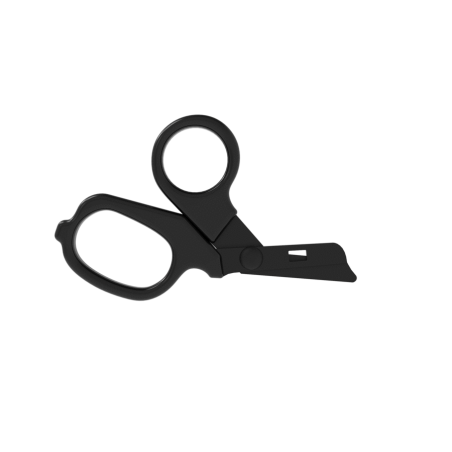  
One Shear - Mini Shear
THE ONE SHEAR Mini features high-quality Extreme Heavy Duty Steel™, and diamond coated (DLC) blades, this is the game-changing shear you can't go without.
One Shear's newest edition, the ONE SHEAR MINI is a 6" length miniature trauma shear that still out weights the typical disposable shears; with its full solid steel construction.  It has a 2" Blade length and 2.5oz lightweight.
With industry-standard Extreme Heavy Duty Steel™ guaranteed scratch and corrosion resistance, and Matte Black G9 Nylon gas-filled handles, anyone needing a sharp cut through the toughest materials will appreciate the functionality in design. If that's not enough, we promise the safest user experience you could get from a pair of shears. A blunt tip means no harm to patients while working around tough-to-cut areas, and bacteria-harbouring-free elements reduce the risk of spreading germs or infection.
Whether you're a medical professional, survivalist, military utility, or handyman, you can rest assured the ONE SHEAR will be your most reliable tool yet.  Perfect for your K9 kit, ankle IFAK, basic bandage cutting, and or veterinarian use.
When we say this is the ONE SHEAR™ you will ever need, we mean it.