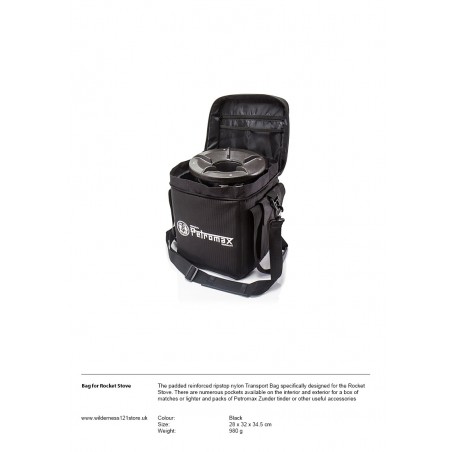  
Petromax Transport Case for RF33 Rocket Stove
The padded reinforced ripstop nylon Transport Bag specifically designed for the Rocket Stove.
There are numerous pockets available on the interior and exterior for a box of matches or lighter and packs of Petromax Zunder tinder or other useful accessories
Additional stability is provided by the robust padded ripstop fabric with embroidered Petromax logo. Both the handle and the removable shoulder belt  provide comfortable carry.
Technical data 
Material: Nylon
Colour: black 
W x H x D with packaging (in cm): 27 x 32 x 8 
Weight (in grams): 980 Weight with packaging (in grams): 1000