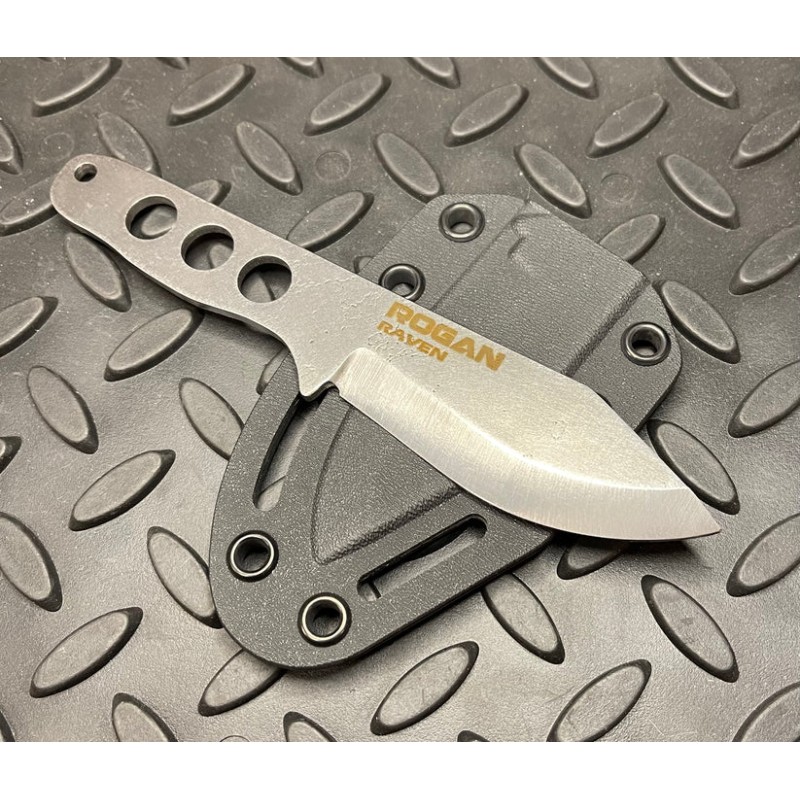  
ROGAN RAVEN
The ROGAN RAVEN is a 3-finger grip, EDC sized backup knife that features a generous 3 inch blade in ROGAN's signature clip point/recurve shape. The clip point design is made for superior piercing ability and the large belly of the recurve is great for slicing.
ROGAN knives are made to have a thin profile for easy carry. Our signature chisel grind is strong, easy to sharpen and ambidextrous.
With its comfortable ergonomics and robust design, it's sure to be a long-time companion while venturing into the outdoors, every day carry or on the job.
The included moulded kydex sheath comes with a belt clip and will also accept any clip/mount on the market. The sheath can also be lashed to molle or a backpack strap with paracord.  Our sheaths are designed to have a full grip on the knife as you deploy it. This means there is no readjustment needed so you can get to the task at hand quickly and effortlessly. Clip can be mounted in a variety of locations for left and right hand carry.
Use the menu to choose the paracord wrap colour.
STEEL: 1/8 thick, 1095 high carbon
GRIND: Chisel
FINISH: Sanded
WEIGHT: 2.3 oz
BLADE LENGTH: 3 inches
OVERALL LENGTH: 6.25 inches
HANDLE: Optional paracord wrap
SHEATH: Kydex with metal clip
MANUFACTURED IN: Florida, USA
All knives are treated with KPL Knife Shield.