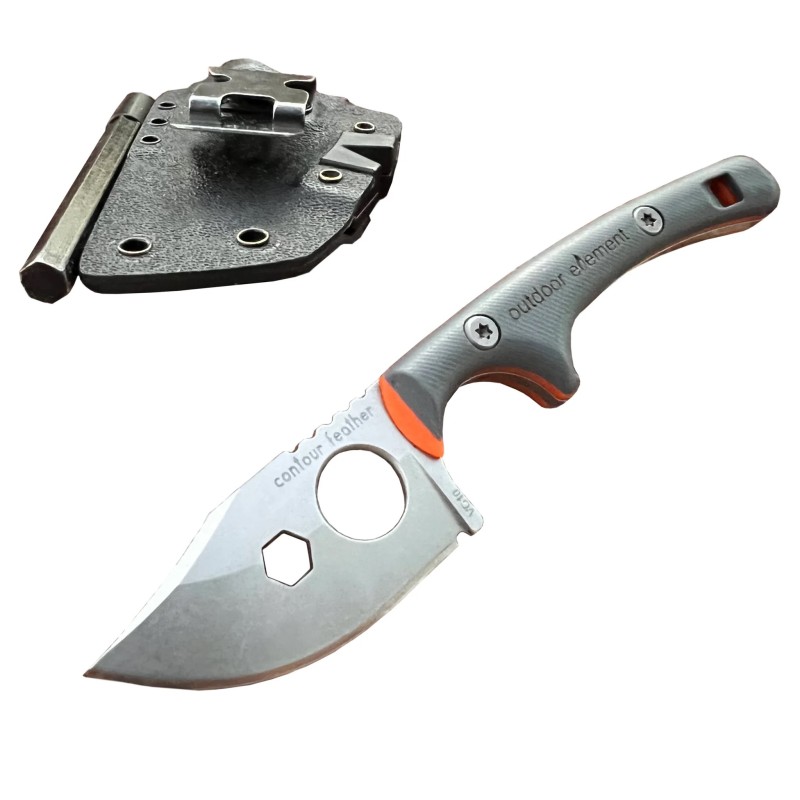  
Outdoor Element - Contour Feather
Outdoor Element - Contour Feather
Contour Feather is the 5-in-1 multitool, Camping, Adventure, EDC, Hunting, Fishing, Survival Knife. featuring a Bowie profile, 2" (5.08cm) fixed blade, full-tang knife, with fire-starter, survival whistle, ceramic knife sharpener / honer, and hex driver. Clip it to your pack, belt or pocket, or wear as a neck knife. It's lightweight and easy to carry.
Strong & sharp 2.0" (5.08cm) blade made from premium VG10 steel, HRC 58-61
Body length is 5.5" (13.97cm)
Overall length when sheathed is 6.3"
Handled thickness 0.5" (1.27cm)
Blade thickness 0.113" (0.28cm)
Jimping on spine
Loud 115 dB survival whistle
1/4" hex driver on flat of blade
Replaceable, thick, long-lasting, fully threaded, custom hex ferro rod on the sheath
Integrated ceramic blade sharpener on the sheath
Heavy-duty pocket clip on the sheath
Patent Pending
Small and mighty: Bowie profile, 2" blade, full tang. The Contour Feather knife is made of VG10 steel with a Rockwell hardness of HRC58-60 which means it holds an edge very well and with 15.5% chromium means it's extremely corrosion resistant (stainless steel). Jimping on the spine, the thumb hold on the flat, and the G10 scales of the handle ensure a safe and durable grip.  Nimble enough to whittle, strong enough to baton. blade length: 2.0" (5.08cm), full length: 5.5" (13.97cm)
Start Fire: Fire can be critical to survival in an emergency. Be safe and be seen. Throw huge sparks by striking the 90-degree spine against our proprietary hex-shaped, threaded ferrocerium rod on the sheath. 
Be Loud, Be Found: A loud, 115dB safety whistle is integrated directly into the handle of Contour Feather.
A dull knife is a dangerous knife. Thanks to the ceramic blade sharpener/honer built directly into the sheath, you can sharpen on the go. 
Tighten or replace the threaded 1/4" hex ferro rod using the driver built into the blade. The sheath is fully threaded so the ferro rod can be inserted backwards on the sheath providing additional purchase/grip with the sheath when striking the knife's spine against the ferro rod.
Secure and accessible: The form-fitted, secure-lock sheath also features a heavy-duty belt clip, specifically designed to fit 3/4" webbing (common size on sternum straps on backpacks). Secure it to your chest strap, your belt, or pocket. Or wear Contour Feather as a neck knife by threading cordage of your choice (we suggest our custom survival cord) through the two larger sheath rivets. It's lightweight (3.2 oz sheathed) and easy to carry.
Contour Feather is the ideal gift for any outdoor enthusiast, whether novice or expert, for men, and women, EDC, fishing, camping, hiking, bushcraft and stored in your emergency kit in the car or bug out bag, so you're ready for any outdoor adventure or emergency. Unique gift for the man or woman that has everything, for Christmas, as a stocking stuffer, or for any other holiday, birthday, Mother's Day, Father's Day, or other occasion such as a wedding, graduation or thank you gift for a coach, mentor, teacher, friend, or neighbor.