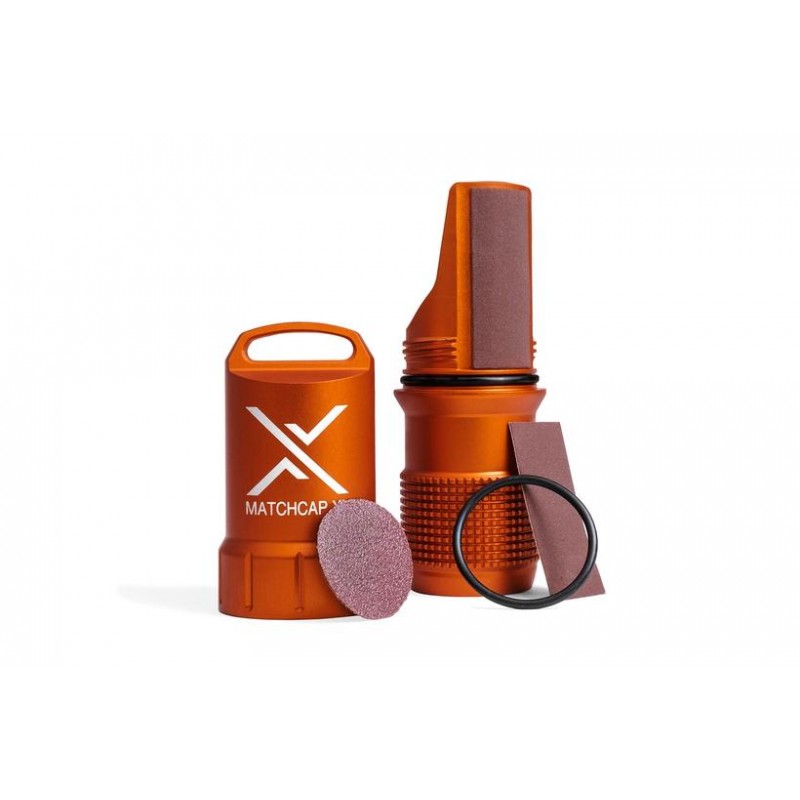  
EXOTAC MATCHCAP XL
The matchCAP XL is the perfect way to safely carry matches in the outdoors safe in the knowledge that they will stay dry. This waterproof matchbox from Exotac also keeps the striking surfaces dry. Great for work or exploring the great outdoors. Will store around 30 lifeboat matches or 40 safety matches and has replaceable striking surfaces for each kind of match whether safety or strike anywhere. 
The MATCHCAP XL™ is a waterproof match case that can carry all sizes of matches from the standard kitchen strike-on-the-box safety match to NATO lifeboat matches and even the extended length matches sold by REI.  The the dual-striker design means that you can use safety matches, strike-anywhere matches, or a combination of the two. 
We are proud to introduce the EXOTAC MATCHCAP XL to the UK and Europe - as well as our other customers around the world.
Sealed with an O-ring which keeps both the matches and the red phosphorus (strike-on-the-box) striker dry. 
EXOTAC MATCHCAP XL Features:
Patent pending waterproof, safe and redundant match striker design

Works with both safety and strike anywhere matches

Larger, improved striking surfaces

Straight-walled inside diameter for easy access

Scalloped body allows easy match removal

Larger diameter and height for increased capacity

Fits matches more than 2.9"/7.35cm in length

Square threaded cap for maximum durability 

 

 

Lightweight aircraft grade 6061 aluminum construction Anodized and laser engraved for durability

Unique knurl for grip and use with strike anywhere matches
The MATCHCAP XL Package Includes:
Match case

Extra O-rings

Extra match strikers

Instruction Manual  
EXOTAC MATCHCAP XL Specifications:
Diameter: 1.20" / 3.05cm
Length: 3.60" / 9.14cm
Weight: 1.25oz / 35g
Strikes: 25-50 per pad
EXOTAC MATCHCAP XL Capacity:
NATO Matches: 32
Stormproof Matches: 25
Kitchen Matches: 40
Stormproof Matches: 25
Kitchen Matches: 40


Available in Gun Metal, Black, Orange and Olive Drab