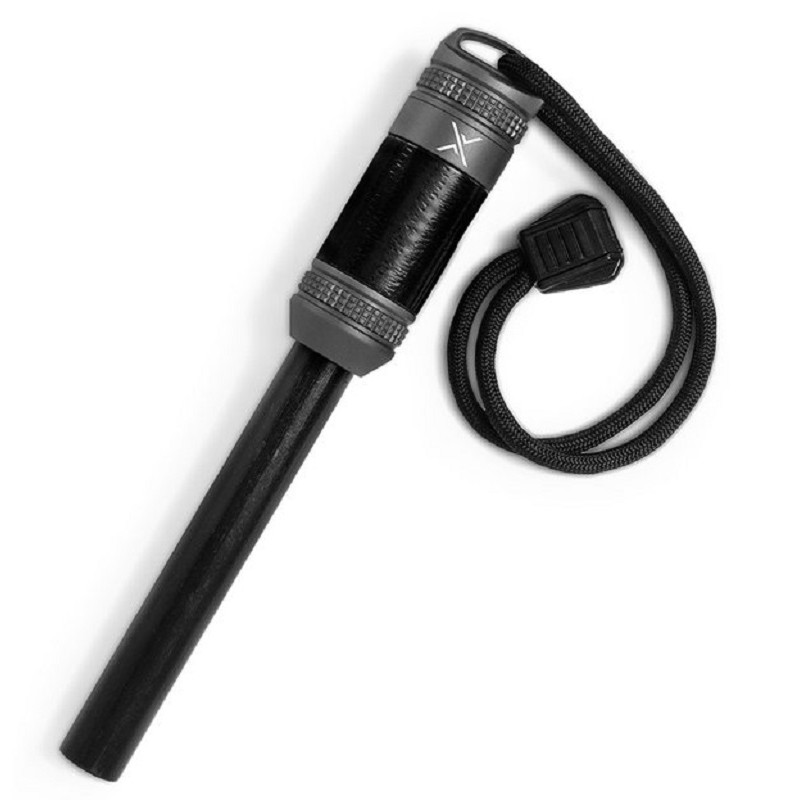  
EXOTAC fireROD XL™
EXOTAC's biggest firestarter ever, the fireROD XL™ is the bigger brother to the fireROD™ and has been brought to life by popular demand!   Not only is it larger, but it also includes repair tape which can also be burned to aid in starting a fire – as well as being used for running repairs and exev first aid.
The EXOTAC fireROD™ series was created to be the perfect fire starting tool for carry in a ferro-loop on a knife sheath.  The ferrocerium rod is replaceable so you won't need to discard this tool when the rod is worn out.  The design is simple, highly-reliable and offers plenty of storage for tinder or water purification tablets.
Designed to be multinational when it comes to bushcraft and survival tasks, key elements include: Your Knife is your Striker - Use the spine of your knife to strike the fireROD XL™. Many bushcrafting knife makers do not round over the edges of the spine leaving them sharp for use as a striking tool. Tinder Storage - Remove the top cap to reveal a large compartment that holds four quickLIGHT™ tabs (included) or tinder of your choice. This compartment can also be used to store other small items, such as fishing hooks or water purification tablets Heavy Duty Repair Tape - The approx. 12in. (4.7cm) of repair tape can be used for patching holes, as an improvised bandage, creating bush-crafting tools or even as tinder (yes it's flammable!) 1/2" / 12.5mm Ferrocerium Rod - The included Ferro rod is not only waterproof but replaceable as well. Simply unthread it from the body of the fireROD XL™ and thread in a replacement rod. Anodized Aluminum Body - The fireROD XL™ is CNC machined, in house from USA high-grade 6061 aluminum then anodized for protection in one of four signature Exotac® colours of Black, Olive Drab, Ginmental Grey and Orange.