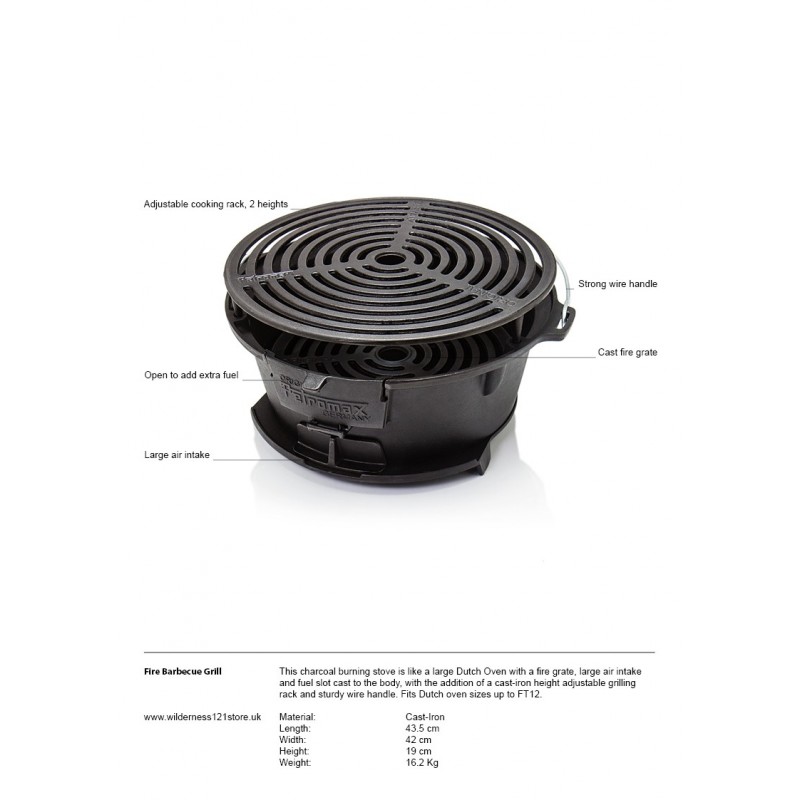  
Fire Barbecue Grill
This charcoal burning stove is like a large Dutch Oven with a fire grate, large air intake and fuel slot cast to the body, with the addition of a cast-iron height adjustable grilling rack and sturdy wire handle.
Fits Dutch oven sizes up to FT12. 
By removing the grilling rack and adding charcoal to the fire grate, you can put a Petromax Dutch oven into the tg3, to cook with a more even distributed heat. Fits Dutch oven sizes up to FT12.
There is two height adjustments for the grilling rack allowing you to adjust how much heat to cook on. As with all Petromax cast-iron products, the tg3 has been preseasons enabling you to cook directly on the grilling rack if you wish.
With the addition of the covered fuel slot, you can load extra charcoal briquettes without having to remove the grilling plate while cooking.
Technical data
Material: cast-iron
L x W x H: 43,5 x 42 x 19 cm
Weight: 16.2 Kg