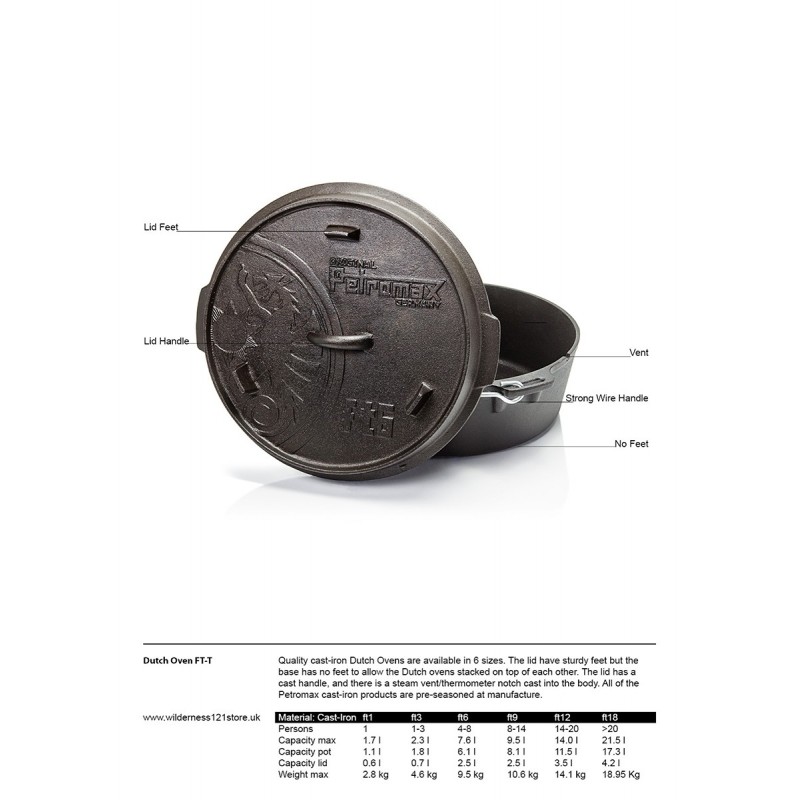  
Petromax FT-T Dutch Ovens Flat Bottom Without Legs
At last, Dutch Ovens with no feet; now available with the Petromax FT-T flat bottom with no feet Dutch Ovens. 
Perfect for using on kitchen stove or in the Kitchen over. On the BBQ or over a gas stove. The Petromax Dutch Oven FT- T without feet has exactly the same construction as the FT Petromax Dutch Ovens but flat bottomed, without feet.   
The Petromax FT-T Dutch oven range come in the same 4 sizes as the FT Dutch Oven. The FT-T3, FT-T6, FT-T9 and the FT-T12 and are identical in every way to the FT Petromax Dutch Ovens other than they have no feet.   

Models:


 
ft3-t
ft6-t
ft9-t
ft12-t
 
 
Persons
1-3
4-8
8-14
14-20
Capacity max.
ca. 2,3 l
ca. 7,6 l
ca. 10,4 l
ca. 14,7 l
Capacity pot
ca. 1,8 l
ca. 5,7 l
ca. 8,5 l
ca. 11,4 l
Capacity lid
ca. 0,5 l
ca. 1,9 l
ca. 1,9 l
ca. 3,3 l
Dimensions max.
24 x
21 x
15,5 cm
36 x 
33 x 
18,5 cm
36 x 
33 x 
21,5 cm
43 x 
38,5 x 
22,5 cm
Dimensions pot
20 x 
20 x 
10,5 cm
31 x 
31 x 
13,5 cm
31 x 
31 x 
16 cm
36,5 x 
36,5 x 
17 cm
Dimensions lid
21 x 
21 x 
5,5 cm
33 x 
33 x 
6,5 cm
33 x 
33 x 
6,5 cm
38,5 x 
38,5 x 
7,5 cm
Weight pot
1,8 kg
4,8 kg
5,7 kg
8,2 kg
Weight lid
2 kg
4,8 kg
4,8 kg
6 kg
Weight max.
3,8 kg
9,6 kg
10,5 kg
14,2 kg