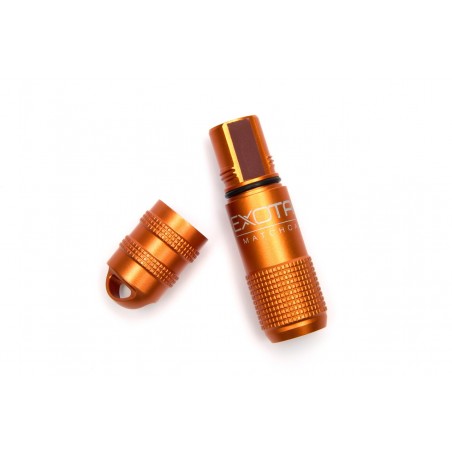  
EXOTAC MATCHCAP
The Exotac matchCAP  is a O-ring sealed waterproof matchbox for carrying safety, strike anyware and NATO matches. The Exotac matchCAP has striking surfaces for all types of matches.  It can be used for other items other than matches. Exotac matchCAP is the smaller brother of the Exotac matchCAP XL. 
The EXOTAC matchCAP™ is a waterproof match case that can carry all sizes of matches from the standard kitchen strike-on-the-box safety match to NATO lifeboat matches and even the extended length matches sold by REI.  The the dual-striker design means that you can use safety matches, strike-anywhere matches, or a combination of the two. 
We are proud to introduce the EXOTAC matchCAP to the UK and Europe - as well as our other customers around the world.
Sealed with an O-ring which keeps both the matches and the red phosphorus (strike-on-the-box) striker dry. 
EXOTAC matchCAP Features:
Patent pending waterproof, safe and redundant match striker design

Works with both safety and strike anywhere matches

Holds matches up to 72mm in length

Square threaded cap for maximum durability

Unique lanyard attachment allows for two 550 paracord loops

Waterproof to depths >5 metres

Lightweight aircraft grade 6061 aluminum construction Anodized and laser engraved for durability

Unique knurl for grip and use with strike anywhere matches
The EXOTAC matchCAP Package Includes:
Match case

Extra O-rings

Extra match strikers

Instruction Manual  
EXOTAC matchCAP Specifications:
Length: 80mm

External Diameter: 23mm

Internal Diameter: 15mm throat tapers to 20mm at base

Weight: 26g

Capacity:  REI Stormproof Matches: 12 , 

NATO / Lifeboat Matches: 16,  Kitchen Matches: 20 

NATO / Lifeboat Matches: 16,  Kitchen Matches: 20
Specific References
upc

091037401526