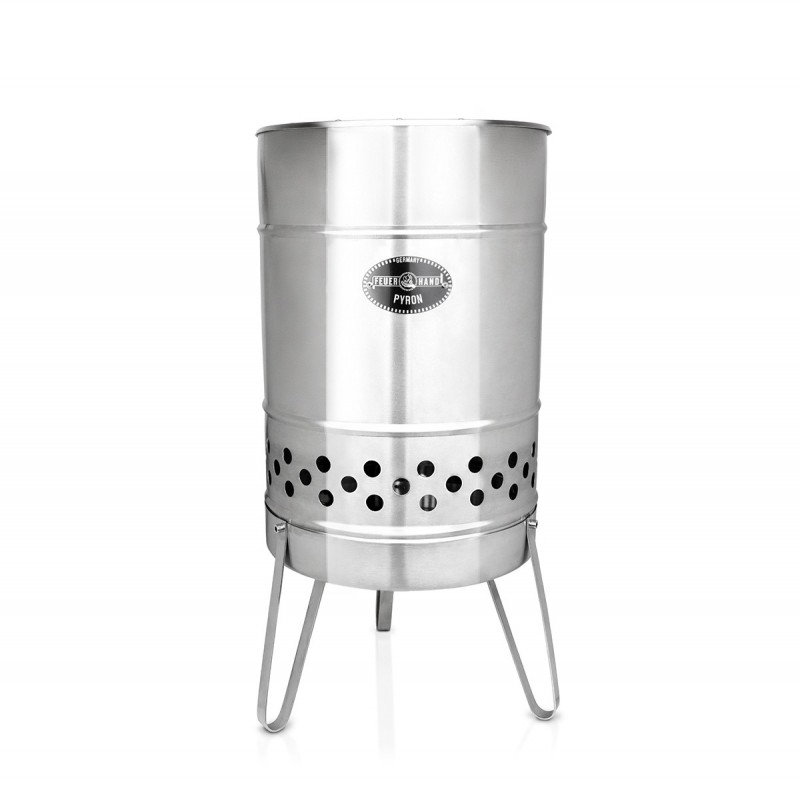  
Feuerhand Pyron
New, from Feuerhand, the Pyron brazier, gives you an ideal fire to stand around, whether on the patio, in the garden or further afield.  Man needs a fire to stand around - the Feuerhand Pyron fire tower is just what you need in the garden
The Feuerhand Pyron brazier is ideal for cozy evenings in the garden or on the terrace. Whether a garden party, camp fire or family fun, the stainless steel Feuerhand Pyron makes every fire easy, clean and fast

The special design with sophisticated ventilation system of Feuerhand Pyron  enables highly effective and virtually smokeless combustion thanks to the chimney effect and wood gasification principle. This is particularly advantageous for the enjoyment of bacon, marshmallows sausages, or other food hand cooked in the open fire. Easy to feed.  The easy-to-empty ash tray catches the fuel residues reliably.
Standfast on three legs 

The three high legs give the Feuerhand Pyron stability on almost any surface.  With repeated use, an individual coloring as well as a patina will be established. This is quite normal and varies depending on the degree of heat, filling and type of fuel. The color gives the barrel an original used look and makes it a rustic highlight for every barbecue evening.
Specifications 

diameter at the top (inside): approx 29.5 cm 
diameter at the top (outside): ca. 36.5 cm 
need stand area: 44.5 cm 
Material: Stainless steel 
volume for fuel: 25 Litre 
B x H x T (in cm): 44.5 x 74 x 44.5 
W x H x D with packaging (in cm): 38.5 x 56.5 x 38.5 
weight (g): 10550 
weight with packaging (in g): 12050
Included in the box:

1 x Feuerhand Pyron - cylindrical fire tower 
1 x coal grate 
1 x ash tray with handles 
1 x bottom 
3 x holder for the ash tray 
3 x foothold 
6 x Allen screw 
1 x Allen key
1 x Manual (English / German / French)
Match the Feuerhand Pyron with the Pyron Cooking Plate and you have a wood fired cooking station for your patio or garden.