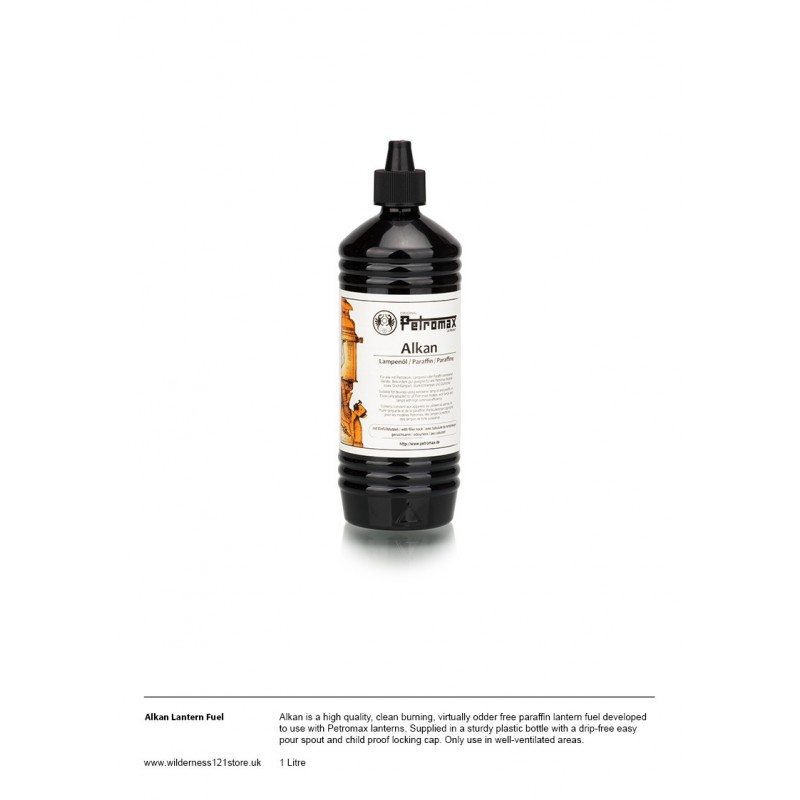  
Petromax ALKAN Lantern Fuel
Alkan is a high quality, clean burning, virtually odour free paraffin lantern fuel developed to use with Petromax lanterns.
Supplied in a sturdy plastic bottle with a drip-free easy pour spout and child proof locking cap. Only use in well-ventilated areas.
Petromax Alkan is the clear, high purity and odourless lamp oil for your Petromax lamp. Also great it is suitable for other petroleum or oil lamps and cookers. 
Odour-free fuel for indoor and outdoor use because of its high purity and the unique composition burns Alkan clean and virtually odorless. That's why you can also use it indoors without any problems. However, care should be taken on an adequate ventilation and oxygenation. 
Drip-free filling with the filler neck , the handy 1 liter bottle makes filling of the air or boiler particularly easy and clean, because on the bottle neck is a practical filler neck attached. This may, if desired, also be removed. The bottle closure is equipped with a child safety lock and thus guarantees safe handling. 
Technical data Flash point:> 61 ° C W x H x D (in cm): xx W x H x D with packaging (in cm): 8.5 x 26.5 x 8.5 weight (in grams): 800 weight with packaging (in grams): 800 
Delivery 1 x Petromax Alkan 1 liter bottle.  Please note - this product can only be shipped when using UPS - not via Royal Mail or Airmail services.