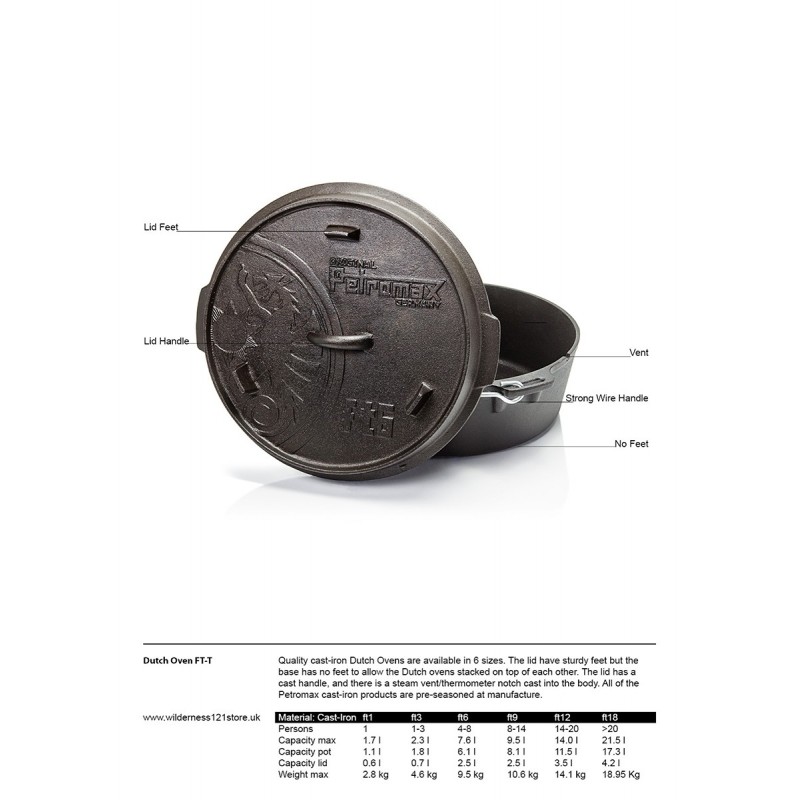  
Petromax FT-T Dutch Ovens Flat Bottom Without Legs
Quality cast-iron Dutch Ovens are available in 6 sizes.
The lids have sturdy feet but the base has no feet to allow the Dutch ovens stacked on top of each other. The lid has a cast handle, and there is a steam vent/thermometer notch cast into the body. 
All of the Petromax cast-iron products are pre-seasoned at manufacture. exactly the same construction as the FT Petromax Dutch Ovens but flat bottomed.  

Models:
| | | | | | | | |
| --- | --- | --- | --- | --- | --- | --- | --- |
|   | ft-t 1 | ft-t 3 | ft-t 4.5 | ft-t 6 | ft-t 9 | ft-t 12 | ft-t 18 |
| Persons | 1 | 1-3 | 2-5 | 4-8 | 8-14 | 14-20 | >20 |
| Capacity max. | 1.7 l | 2.3 l | 4.2 l | 7.6 l | 9.5 l | 14.0 l | 21.5 l |
| Capacity pot | 1.1 l | 1.8 l | 4 l | 6.1 l | 8.1 l | 11.5 l | 17.3 l |
| Capacity lid | 0.6 l | 0.7 l | 1.2 l | 2.5 l | 2.5 l | 3.5 l | 4.2 l |
| Weight max. | 2.8 kg | 4.6 kg | 8 kg   | 9.5 kg | 10.6 kg | 14.1 kg | 18.95 kg |