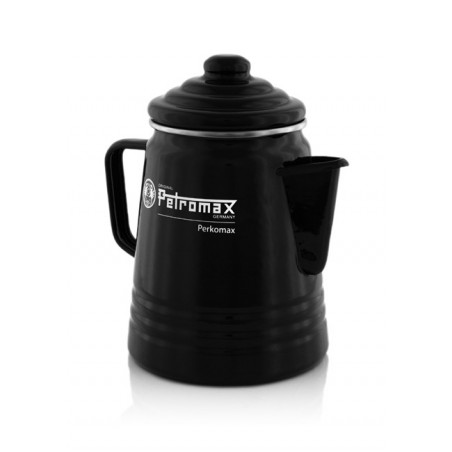  
Petromax Perkomax 9 Cup Tea and Coffee Percolator
With these enamelled stove top percolators place your preferred tea leaves or coffee grinds into the perforated chamber and as the water boils water will be forced up through the tube to flood out over the top of the chamber and percolate down through the coffee grind or tea leaves.
Bored of instant coffee when you are camping or fishing?  Wondering what to do with the heat left on your BBQ once you have finished cooking?  Look no further.  The Petromax Perlomax coffee percolator might be just what you are looking for.
The percolator, invented in 1819, is a special way of making coffee. Percolators are well-known in the Netherlands, UK and US. As a traditional company, Petromax wants to bring some of these cultures to you. The working principle of a coffee percolator is very interesting.
In the first step, the perforated chamber of the Perkomax is filled with coffee granules or tea leaves. Afterwards, the desired amount of water is put into the percolator. A small vertical tube connects the bottom of the percolator with the perforated chamber. After the percolator is placed on a heat source (e.g. cooker or stove), the water begins to boil and the rising bubbles will force the liquid up the tube. The hot water is distributed over the perforated chamber that contains the granules or tea leaves. The hot water then seeps through the coffee granules or tea leaves and leaves the chamber through the bottom, dropping back into the lower half of the percolator. The cycle repeats over and over again. In general, one heaped teaspoon of coffee granules or tea leaves per cup is sufficient. The amount of water and the brewing time depend on the individual's taste. The longer the brewing time, the stronger the coffee or tea. The Petromax Perkomax is made of enameled steel that gives the percolator a very stylish look. The enameled steel is tasteless and does not affect the taste of the coffee at all. The result is a perfect transfer of taste and aroma from the coffee powder to the water.
A big advantage is the fact that no waste is being produced while the coffee is prepared, so it's a great tool for outdoor and camping. The used coffee grounds or tea leaves can be used as a fertilizer for gardens.
Specifications
Colour: black and white
Max. capacity: 1.5 l (up to 9 cups of coffee)
Material: enamelled steel (ring of stainless steel)
Dimensions: 21.5 x 15 x 15 cm
Weight: 1 kg
As seen on Fishing in the footsteps of Mr Crabtree - Series 2.