Go Prepared Survival
Go Prepared Survival is a small Veteran owned and operated business that produces American made SurvivalKits, SURE STRIPS Genuine Military Tinder™ , Survival Kits, Spartan Fire Tinder and the Military Speedhook™ Emergency Fishing/Trapping Kit.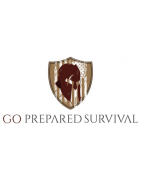 Subcategories
Quality survival equipment, manufactured in the US and used by military forces around the world

Genuine Military Issue Tinder used by a number of militaries around the world. 

Survival Kits From Go Prepared Survival - made in the USA
No products available yet
Stay tuned! More products will be shown here as they are added.