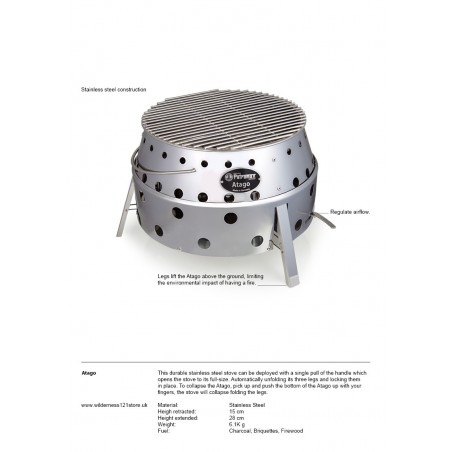  
Petromax Atago | BBQ Fire Pit, Stove,
This durable stainless steel charcoal, briquettes or firewood burning bbq stove can be deployed with a single pull of the handle which opens the stove to its full-size. 
Automatically unfolding its three legs and locking them in place. To collapse the Atago, pick up and push the bottom of the Atago up with your fingers, the stove will collapse folding the legs.
We were pleased to introduce the Petromax ATAGO to the UK - seeing an ATAGO with a dutch oven nesteled inside sparked a chain of thought about outdoor cooking that we just couldn't resist.  The Petromax ATAGO is versatile and well made.  It is portable and offers everythign from a fire pit to a pizza oven with the UMK added.  
Having a barbecue with family or friends belongs to the most common hobbies in the world. People enjoy the culinary highlights on garden parties, in the park or on the beach – everyone likes barbecues. With its multifunctional Atago, Petromax revolutionises the Grill business. In fact, the Petromax Atago convinces is fourfold: As a WOK, a stove, a fire pit and, of course, as a Grill. Besides the conventional barbecue, the Petromax Atago can be used as a WOK base. You can place your WOK on the upper opening to cook Asian food. Please make sure that you leave the grill plate aside. The optimal heat will help you cooking fantastic food.
For cooking or baking with Atago, you can use the original Petromax Dutch Oven as a stove. These Dutch Ovens are made of durable cast iron and can thus be placed directly onto the coal. An optimal heat is guaranteed as Atago surrounds the Petromax Dutch Oven. So you can prepare wonderful stews for your guests (FT6).
Of course, having a traditional barbecue is pleasant. Due to the special construction of the ATAGO and the air cooling system which is infinitely adjustable, a stack-effect occurs. Placing the coal on the bottom of the Grill, you can use this stack-effect to heat your coal fast and effectively. As soon as the Atago has reached its temperature, you can reduce the heat according to your meal. Consequently, fish, meat or vegetables will guarantee an unforgettable taste.
Having satisfied your guests with an excellent feast, you can use the Atago as a fire pit. So you might end the evening on a cozy note sitting next to a campfire that warms you.
For transport, you can fold the Atago easily. This convenient function enables you to collect the Grill wherever you go and fast reopen it for usage. Being folded, The Petromax Atago fits into its versatile transport bag (FT-TA-XL).